Gaming just got more exciting as Acer unleashed the Predator Orion X gaming desktop; Predator Triton 17 X, Predator Helios Neo 16, and Predator Triton 14 gaming laptops; and Nitro and Predator curved monitors. All the PCs have "Intel inside."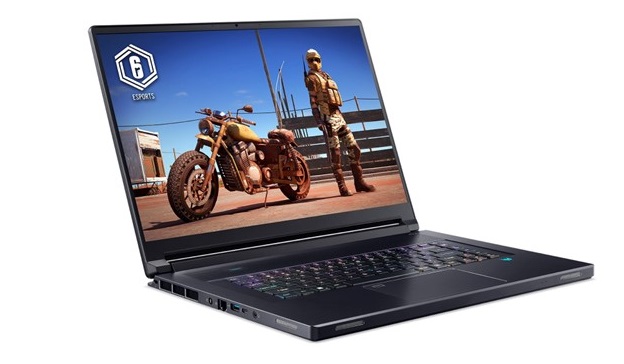 PC sales may be in the dumps, but Acer isn't letting that slow it down. The company launched a series of new desktop and laptop gaming PCs as well as monitors tuned for gaming performance. Interestingly, the PCs are an all-Intel affair, with not one AMD processor to be seen in the lineup. AMD has been especially popular with gamers and is viewed as competitive with Intel performance-wise and much cheaper than Intel. That might be why the PCs are so pricey.
First up is a new lineup of gaming laptops under the Predator brand name, including one that Acer calls its most powerful ever, the Predator Triton 17 X. Acer has managed to cram a 13th-generation Intel Core i9-13900HX processor with up to 24 cores and an Nvidia GeForce RTX 4090 into a laptop that's just an inch thick. It can hold up to 64GB memory and 4TB PCIe SSD. The Triton 17 X has a 17-inch display, a glass touchpad, an option for a WQXGA mini-LED (AmLED Technologies) display with a 250-Hz refresh rate, and DTS:X Ultra surround sound with six speakers. It'll set you back $3,800 when it ships in June.
If your budget is more modest, there's always the Predator Helios Neo 16 laptop. With a starting price of $1,200, it comes with 13th-gen Intel Core HX processors and up to an Nvidia GeForce RTX 4070 laptop GPU, up to 32GB of dual-channel DDR5 RAM, and up to 2TB PCIe NVMe SSD storage.
Next up is the Predator Triton 14 laptop that Acer says is for gaming or work. While the price starts at $1,500, if you want the top-end configuration of an Intel Core i7-13700H processor and an Nvidia GeForce RTX 4070 laptop GPU, it will cost as much as $3,500. That price tag is for the Predator Helios 3D 15 SpatialLabs Edition, which offers a glasses-free stereoscopic 3D experience to gamers.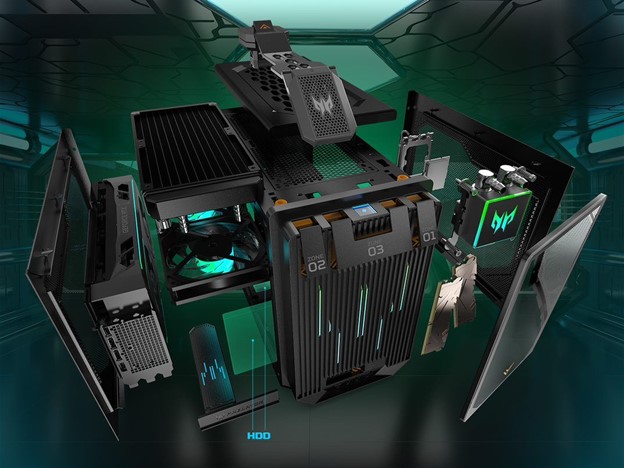 In addition to the new laptops, Acer has also introduced the Predator Orion X gaming desktop, which has the design and look of a custom-built PC and is upgrade-friendly, something systems vendors are not usually known for. Then again, this is a top-of-the-line system.
The Orion X can run up to the Core i9-13900KS processor and GeForce RTX 4090 GPU, making it the smallest PC that features this GPU, Acer notes. The 4090 card is monstrous, and many systems builders have complained it doesn't fit into cases. But, it fits because Acer did some custom engineering and built a custom liquid-cooled cooling block with fans to replace the gigantic stock air cooler. The starting price is $2,999 when it ships in September.
Finally, there are two new monitors: The 44.5-inch Nitro XZ452CU V curved gaming monitor brings a 32:9 ultrawide aspect ratio (5120×1440) and 165Hz refresh rate, plus a 1500R Dual QHD panel; and the Predator X34 V gaming monitor is a curved 34-inch OLED display that has UWQHD resolution and 175Hz refresh rate with 0.1 ms delay.
The Nitro XZ452CU V will be available in North America in Q4, 2023 starting at $999.99. The Predator X34 V will be available in North America in Q4, 2023 starting at $1,299.99.
Learn about the financial aspects of the PC gaming hardware market with Jon Peddie Research's PC Gaming Hardware Market report.