MediaTek debuts its latest flagship mobile chip, the Dimensity 9300, built on a 4nm TSMC process with an all-big-core design, featuring four Arm Cortex-X4 cores operating at up to 3.25GHz and four Cortex-A720 cores operating at up to 2.0GHz for maximum performance. This octacore configuration prioritizes performance, competing with Qualcomm's Snapdragon 8 Gen 3, which has a 1×5×2 octacore design. MediaTek aims to strike a balance between performance and battery life with a focus on generative AI applications. There is support for WQHD at 180Hz and 4K up to 120Hz for stunning visuals, along with dual active display support for foldable form factors. LPDDR5T 9600Mbps memory is supported, offering speedy performance. The Dimensity 9300 also supports advanced photography and video capture, Wi-Fi 7, and is expected to power smartphones by the end of 2023. MediaTek intends to bolster its presence in the high-end market.
What do we think? The all-big-core octacore design is the interesting factor, with just two core types. Although there are three core speeds (3.25GHz, 2.85GHz, and 2.0GHz), making this a 1×3×4 configuration, none of the cores are from the smaller end of the Arm range. Unlike Samsung and Qualcomm, MediaTek does not design its own cores. Beaten generation to generation by Qualcomm and Apple, MediaTek is going all out on performance this time, rather than being a fast follower. The GPU is a monster, too: Arm's Immortalis-G720. With added CPU-supported ray-tracing hardware and an AI-ISP, this chip looks like it will be a graphics and display monster. MediaTek is optimistic that it will beat Snapdragon 8 Gen 3 on Geekbench, based on initial data following the Qualcomm launch. We agree it will be close, and this could be an important product for MediaTek.
MediaTek Dimensity 9300 aims to deliver a reason to look for MediaTek inside
MediaTek has introduced its latest flagship mobile chip, the Dimensity 9300, a 4nm TSMC chip featuring an interesting all-big-core design, 4× 3.25GHz Cortex-X4 and 4× 2.0GHz Cortex-A720. This 1×3×4 octacore configuration, presented by MediaTek marketing as more like a 4×4 (see image blow) is clearly focused on performance and differs significantly from other recent core launches, which have tended toward even more tiering of cores. For example, Samsung's 10-core Exynos 2400 is 1×2×3×4.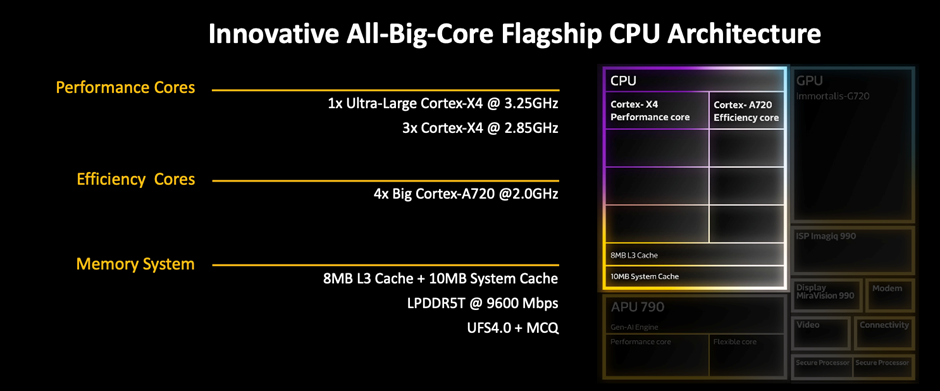 The aim, as put by MediaTek GM and VP of global marketing Finbarr Moynihan, is: "Turn on a more powerful core, do the job quickly, and then power down to a low power state."
The main competitor will be Qualcomm's Snapdragon 8 Gen 3, which has a 1×5×2 octacore configuration and on paper looks like it will lead this new generation of APs. Qualcomm's homegrown Kryo CPU combines a prime CPU at 3.3GHz with five performance cores (2× 3.0GHz and 3× 3.2GHz) and two efficiency cores (2.3GHz).
MediaTek is optimistic that it will beat Snapdragon 8 Gen 3 on Geekbench, based on initial data following the Qualcomm launch.
Samsung's Exynos 2400 is another comparator, with 10 cores in four clusters. A large core operates at a frequency of 3.21GHz, two cores at 2.90GHz, three cores at 2.59GHz, and four cores at 1.96GHz.
Dimensity 9300 is a design gamble, but MediaTek is good at power efficiency, and they may strike a sweet spot between performance and battery life. If they have pulled it off, then this will be their most powerful flagship chip to date and deliver impressive gaming, video, and on-device generative AI, while still having acceptable power demands. The thing is a beast, even larger than Apple's latest AP.
What it does have in common with rivals is a focus on added AI logic, in this case, the AI processing unit (APU) 790.
With double the integer and floating-point operations performance and a claimed 45% reduction in power consumption, the APU 790 will give developers scope for generative AI applications that should have OEM appeal, while keeping power use sensible. MediaTek specifically mentions music generation as one application area.
It incorporates mixed-precision INT4 quantization technology and memory hardware compression (branded NeuroPilot) to optimize memory bandwidth utilization and decrease memory requirements for large AI models with up to 33 billion parameters. Dimensity 9300 is compatible with large language models, including Meta Llama 2, Baichuan 2, and Baidu AI LLM. The APU 790 AI processor also handles security for edge computing.
The GPU is Arm's latest, the Immortalis-G720, to deliver a claimed 46% boost in GPU performance at roughly the same power consumption as Dimensity 9200.

A combination of CPU processing and a second-generation hardware ray-tracing engine delivers global illumination effects at 60 FPS.
For mobile photography and video capture, Dimensity 9300 incorporates a low-power AI-ISP and supports always-on HDR up to 4K resolution at 60 FPS. It enables cinematic mode at 4K/30 FPS with real-time bokeh tracking for professional-quality bokeh enhancements. I have never before wondered whether better blur quality would enhance my life, but I'm weirdly interested in this feature.
There is also AI noise reduction (AI-NR) and AI processing on RAW photos and videos as well as a new JPEG-compatible Ultra HDR format (on Android 14 only, it seems). The chipset also features ambient light adaptive HDR recovery technology.
The display system uses on-device AI to detect primary objects and background images in real time and can dynamically adjust contrast, sharpness, and color to enhance primary objects and create lifelike video experiences comparable to flagship DTVs.
Dimensity 9300 supports Wi-Fi 7 speeds up to 6.5Gbps and integrates proprietary technology for improved long-range connectivity. Multi-link hotspot technology claims smartphone tethering speeds up to three times faster than competitive solutions.
Smartphones featuring the Dimensity 9300 chipset will be available by the end of 2023.
Strategy
MediaTek's strategy has always been to be something of a fast follower building a large market presence globally by targeting both high-end and mass-market segments. To do this, they offer a balance between performance and affordability. This time around, they are pitching more towards the performance end of that spectrum. Why? MediaTek dominates the smartphone AP market by volume with a share of 30% in Q2 2023, but Qualcomm dominates by revenue, with a 40% share, most of which comes from premium phones. MediaTek places just third for revenue share, which needs to be addressed, and may be by Dimensity 9300.
It's a reasonably low-risk play, as there are several mainstream MediaTek processors (e.g., the Dimensity 7000 series) that have the legs to ship for a couple more generations of phone, enabling MediaTek to throw everything at the high end this time around.