Niantic, which creates AR mobile games including the überpopular Pokémon Go, is hitting the brakes on its lightning-fast growth when it discovered too late that its expenses outpaced its revenue. To right the ship, (the company took its name from the whaling vessel Niantic, which sailed to San Francisco during the Gold Rush in the 1800s), the company is making some hard changes that entail layoffs, a studio closure, and having to abandon certain projects. However, the company remains focused on and committed to the AR mobile game industry and will continue forging a more focused path forward and will do so more cautiously as it deals with macroeconomic uncertainty.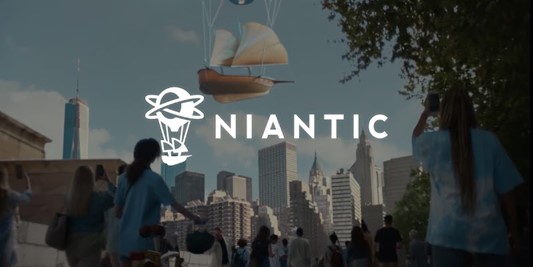 The rush headfirst into the deep end of AR and XR has left some casualties in its wake. Niantic, riding very high on the augmented reality wave just a few years ago, has learned about the danger of jumping in with abandon and found itself struggling against the AI rip current, as its revenue failed to keep pace with expenses.
Like many tech companies, Niantic was riding the revenue surge experienced during Covid, and grew its headcount and related expenses in order to pursue growth more aggressively, expanding existing game teams, its AR platform, and new game projects, said John Hanke, Niantic CEO. The result: layoffs, studio closures, game cancellations, and more, which came late last week. Hanke acknowledged that these are difficult changes but believes they are important to weathering the current challenges in the market.
Hanke also points to external factors as adversely impacting the company as well. "We are operating in a tough market environment due to the overall global macroeconomic slowdown, as well as unique challenges in the mobile gaming and AR markets," he said, noting that the mobile market has become crowded and changes to the app store and mobile advertising landscape has made it harder to launch new mobile games at scale. Also, the AR market is developing more slowly than anticipated due to technology challenges and because larger players are slowing down their investments in light of the macro environment, Hanke added.
Niantic, a technology company specializing in AR gaming, was formed in 2010 as an internal start-up within Google, but five years later became its own entity and benefitted from three rounds of funding that raised over $500 million. At the start of 2019, the company was valued at $3.7 billion.
For those who do not recognize the company's name, surely its popular Pokémon Go, developed in partnership with Nintendo and The Pokémon Company for iOS and Android devices, will ring a bell. After all, it was one of the most popular mobile apps in 2016, leaving players to locate, capture, train, and wage battle with these virtual creatures. Suddenly, people everywhere became familiar with the concept of AR and location-based technology. In just three short years, the game had over 1 billion downloads.
After the first round of funding in 2017, the company started acquiring companies specializing in social media tech, augmented reality, computer vision and machine learning, game development, holographic waveguide displays, 3D scanning, WebAR development, and more.
During that period, the company continued working on new developments, including the release of Pikmin Bloom, a new AR smartphone app developed with Nintendo involving encounters with little creatures called Pikmin in the real world. In May 2023, the company launched another smartphone AR game called Peridot. Plans for other games were announced as well.
However, the company soon was hit hard by massive growing pains that proved too strong to overcome with simple corrective actions. As a result, Niantic, which is headquartered in San Francisco, was forced to shutter its Los Angeles studio and announced it was laying off 230 employees across the company. In addition, it was cancelling its upcoming Marvel: World of Heroes, which it was developing with Marvel Entertainment; the title was to release sometime this year. It is also sunsetting its NBA All-World AR game, developed in partnership with the NBA and NBPA, and released early this year. However, the company said it will continue focusing on making its recently launched games a success, including Pokémon Go (its top priority), Pikmin Bloom, and Peridot, as well as Monster Hunter Now, announced in April 2023 and based on the Monster Hunter franchise.
Also, the company said it will be refocusing its platform team with the goal to do less but better.
According to Hanke, Niantic will be narrowing its focus for mobile game investments, concentrating on first-party games that embody location and local social communities. "The mobile gaming market is very mature, and only the best and most differentiated titles have a chance to succeed," he stated in a message posted on the Niantic website that went out to the company's employees. "We also want to increase our focus on building for the emerging class of MR devices and future AR glasses."
To his credit, Hanke is forthright about where he places the blame for Niantic's financial situation. "Teams need platform tools that are force multipliers, enabling them to build at the highest quality with powerful engagement features quickly and efficiently. Our AR map and platform must deliver the features that developers want in a robust and reliable way. We have not met our goals in all of these areas," he said.
Nevertheless, Hanke said Niantic remains firm in its belief in AR as the future form factor for computing.