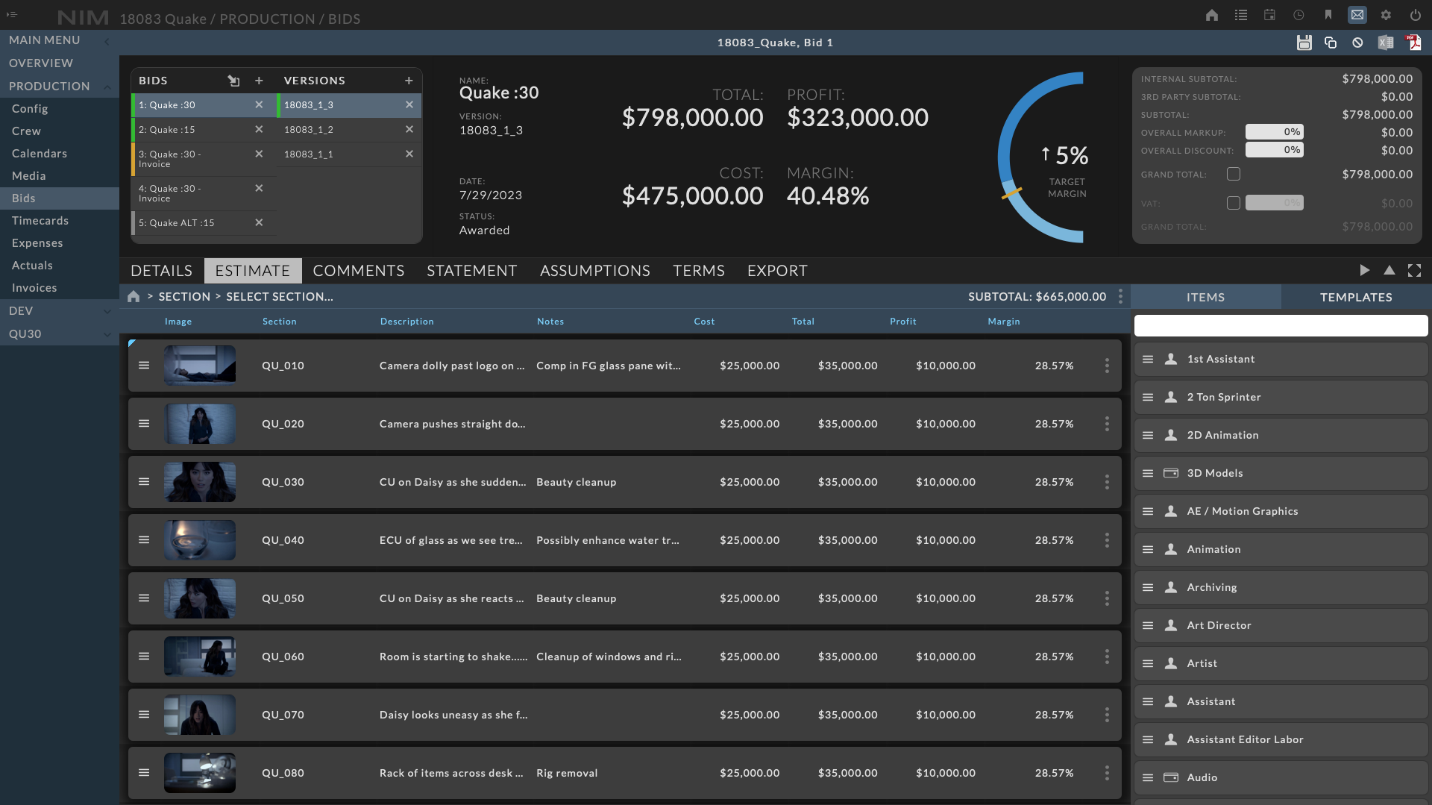 The VFX industry has operated on a tight budget for years. Underestimating a project during the bidding process can wreak havoc on a studio's bottom line. While production management software may not generate a ton of excitement, its importance cannot be overlooked. Nim Labs has just launched version 6.0 of its Nim studio management platform, with a focus on tackling one of the most time-consuming aspects of new business: the bidding process.
Nim 6 is a significant update to the company's studio management offering, helping creative facilities to track projects and assess financial information relating to a potential new project, no matter how large or small it may be.
"Nim 6.0 brings order to the bidding process, reducing most tasks to a couple of clicks. Now, producers can easily gauge margins, automate line items, and segment their drafts in the fastest way possible, even when they're pitching a 1,000-plus shot production," said Andrew Sinagra, cofounder of Nim.
Nim redesigned the bidding tools in Nim 6.0 to make them faster and more efficient. Also, the software is no longer affected by the scale of a project, as it works just as fast on 100 line items as it does on 10,000. In addition, the system categorizes shot breakdowns and auto-populates with new or existing information from previous projects. And each section includes margin information, so teams can see if they are promising too much or if there is some flexibility that will let them make a bid that is more appealing to the client.
With the update, it is now easier to also navigate extensive contact lists, and there is more flexibility when issuing notifications. Moreover, the UI has a cleaner, more modern look and presents the data in a more eye pleasing way and one that is easier to understand without getting bogged down and lost among the data. Many of the new updates resulted from customer requests.
Nim Labs' Nim platform has been tracking the production pipeline from start to finish since 2015. The browser-based tool was incubated within post house/VFX studio Ntropic, where it addressed every stage of production, from asset management, shot tracking, and creative review, to bidding, scheduling, and job actualization. Nim provides studios with a complete overview of their performance, from finances to production, so they can accurately measure the health of their organization at any time.
Nim 6.0 is available now. Annual licenses costs $30 a month per user; monthly licenses are priced at $40 a month per user.