Summer 1996, Today is the day!
And so it begins. You hit the road. adventure. freedom. escape. run. The main objective is to flee Petria, Flee the regime; try to survive.
On the way to the border, you meet unusual characters, discover their stories (which are often intertwined) and secrets in an adventure that evolves. But every mile opens a choice to make. Your decisions will change your adventure, change the people you meet, maybe even change the country's destiny. There is a strong undertone of the US pre-2021 and an upcoming election, although the developers reference eastern European and Mideast nations in their comments about the game.
The characters and art are very cartoonish, but not stupid or silly. As you meet characters, you accumulate them in a library at the bottom of the screen. If you fail to get to and cross the border (and you will), when you restart the game, you will be one of the other characters.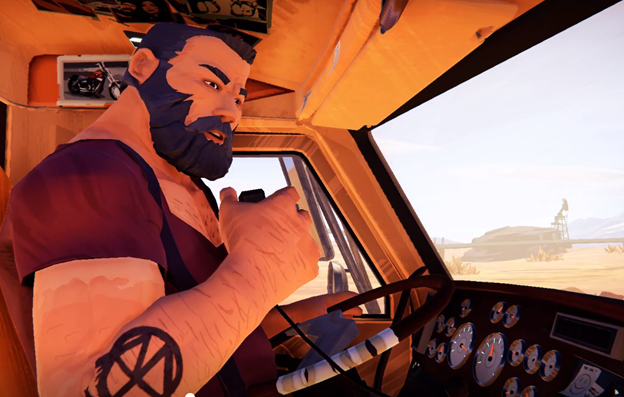 There are a series of different episodes so you can play a whole season and live a different story in each one, in the shoes of each one of the teenagers the game randomly gives to you to select.
There are several roads, and hundreds, maybe thousands of routes across the authoritarian nation of Petria. You start out with a car, which you crash learning how to drive. Thereafter you walk, hitchhike, or take bus or taxi if you have any cash. As you progress (toward the border), you meet characters, learn their story, try to avoid being caught, beaten up or caught between members of the opposing political parties. 

Screen shot from 49-inch 5120 × 1440 Dell monitor. You start at the left and try to get to the center top which is the border crossing.
As you travel along Road 96 you find or are given cassette tapes. The soundtrack was composed by eight artists from different countries, fueled by 90s taste and diversity.
Playing through it usually takes between 30 to 50 minutes, which is approximately the time a series episode lasts. You can see a good preview of it here.
The game was developed by Digixart in Montpellier, France. There's a nice interview here about how it came to be. HP was one of the sponsors of the game and they featured it in an initiative from HP's gaming brand, OMEN, to support visionary developers building innovative gaming experiences that showcase the progress possible through gaming. The initiative provided exclusive access and content from co-published and partnered games to the gaming community through OMEN Gaming Hub. It's now available on Steam and Epic Games for $20 for the PC and Switch, and may be available on consoles later this year.
What do we think?
I've made four trips and got across the border once. Often, I will fire up FO76 in the late afternoon early evening to unwind. FO76 is an easy game with no stress. Road 96 is similar in that sense. You can play it, discover it, and not get stressed out doing it.
I give it a 4.5.