For the second-quarter 2023, AMD reports a mild dip in sales across multiple lines, thanks to inventory burnoff and product refreshes.
AMD announced GAAP revenue for the second quarter of 2023 of $5.4 billion, gross margin of 46%, operating loss of $20 million, net income of $27 million, and diluted earnings per share of $0.02.
On a year-over-year basis, GAAP revenue was down 18.2%, while net income plunged by 93.9%. On a sequential basis, revenue rose 0.2%, while net income turned positive over the previous quarter's loss.
On a non-GAAP basis, gross margin was 50%, operating income was $1.1 billion, net income was $948 million, and diluted earnings per share was $0.58. Analysts polled by FactSet had projected earnings of $0.57 a share on sales of $5.32 billion.
"We delivered strong results in the second quarter as 4th Gen Epyc and Ryzen 7000 processors ramped significantly," said AMD Chair and CEO Dr. Lisa Su in a statement. "Our AI engagements increased by more than seven times in the quarter as multiple customers initiated or expanded programs supporting future deployments of Instinct accelerators at scale. We made strong progress meeting key hardware and software milestones to address the growing customer pull for our data center AI solutions and are on track to launch and ramp production of MI300 accelerators in the fourth quarter."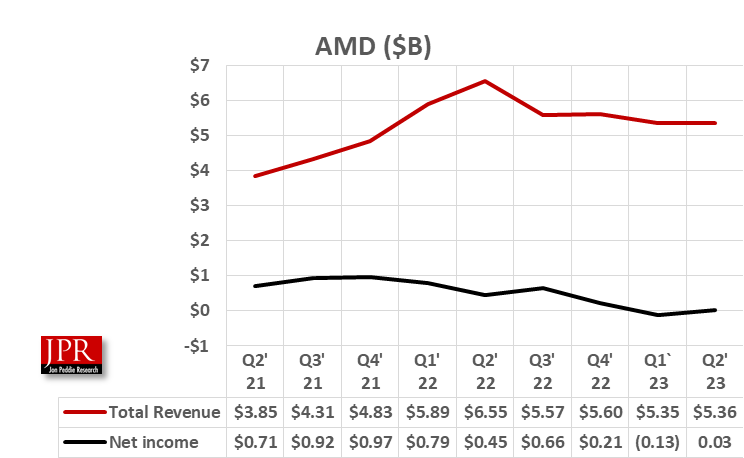 The GAAP gross margin of 46% was up 4.5% from the previous quarter and even with the same quarter last year. Non-GAAP gross margin was 50%.
Revenue of $5.4 billion declined 18% year over year as strength in the Embedded segment was more than offset primarily by lower Client segment revenue. Client revenue was impacted by a weaker PC market and a significant inventory correction across the PC supply chain, two problems that date back to the previous quarter.
The company reported an operating loss of $20 million, as compared to a profit of $526 million in the same quarter last year, primarily due to the Client segment underperforming and amortization of acquisition-related intangible assets.
GAAP OpEx was $2.47 billion, while non-GAAP OpEx was $1.6 billion, a significant difference. The difference is caused by a number of charges and factors, primarily amortization of intangibles related to the acquisitions of Xilinx and Pensando last year, as well as stock-based compensation. So it is just accounting issues, no money is going out the door. The company is very cash-flow positive.
GAAP net income was $27 million, an improvement over the net loss for the quarter of $139 million but down 96% compared to the $455 million in the same quarter last year. Non-GAAP net income was $948 million, down 44% year over year.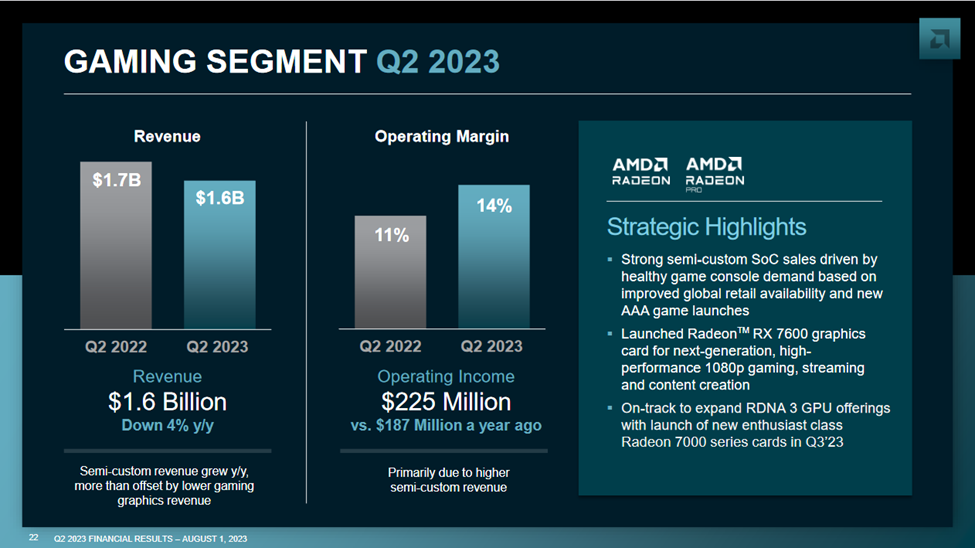 Gaming segment revenue was $1.6 billion, down 4% year over year and 10% sequentially, in line with AMD's expectations. This was primarily due to lower gaming graphics sales. On the earnings call with analysts, Su attributed the decline to a refresh in the product line entering the channel and said she expected sales to be up in the third quarter.
Semicustom revenue grew year over year, which was more than offset by lower gaming graphics revenue. Both Microsoft and Sony had healthy supplies of their consoles available for sale.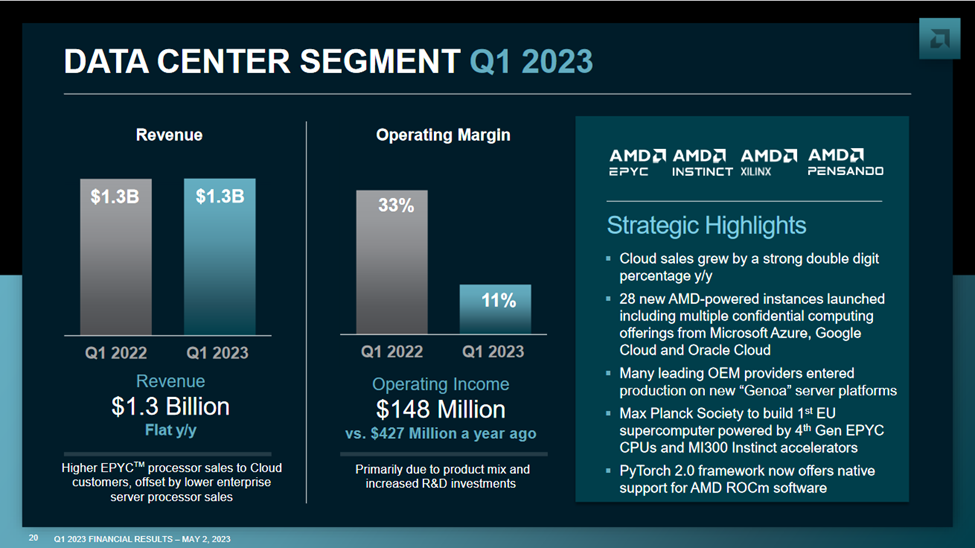 The Data Center segment has traditionally been the star of the show, but this time it took it on the chin as badly as Client and Gaming.
Data Center segment revenue was $1.3 billion, down 11% year over year and up 2% sequentially. Third-generation Epyc processor sales were soft due to elevated inventory levels, but fourth-generation Epyc revenue nearly doubled. Higher cloud sales offset lower enterprise sales.
AMD's new Instinct MI300A and MI300X GPUs are being sampled to leading HPC, cloud, and AI customers and expected to ship later this year.
Su said AMD sees a mixed environment in the data center market as AI deployments are expanding, but cloud customers continue optimizing their data center compute, and enterprise customers remain cautious with new deployments. That's translating into slower sales.
"Longer term, while we are still in the very early days of the new era of AI, it is clear that AI represents a multibillion-dollar growth opportunity for AMD across cloud edge and an increasingly diverse number of intelligent end points. In the data center alone, we expect the market for AI accelerators to reach over $150 billion by 2027," Su told the analysts.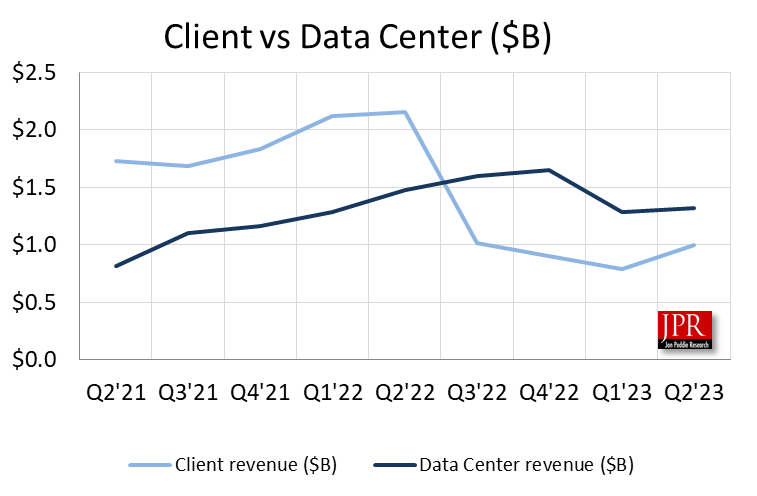 Client segment revenue was $998 million, down 54% year over year due to a weaker PC market and a significant inventory correction across the PC supply chain. Essentially, this is a repeat of the last quarter.
However, there was a bright spot. Revenue increased 35% sequentially from Q1 as AMD's new Ryzen 7000 series CPU sales grew significantly, and PC market conditions slowly improved. More than 100 AMD-powered commercial PC platforms are set to launch this year.
"We expect our Client segment will grow in the seasonally stronger second half of the year based on the strength of our product portfolio and increased adoption of our Ryzen 7000 CPUs," said Su.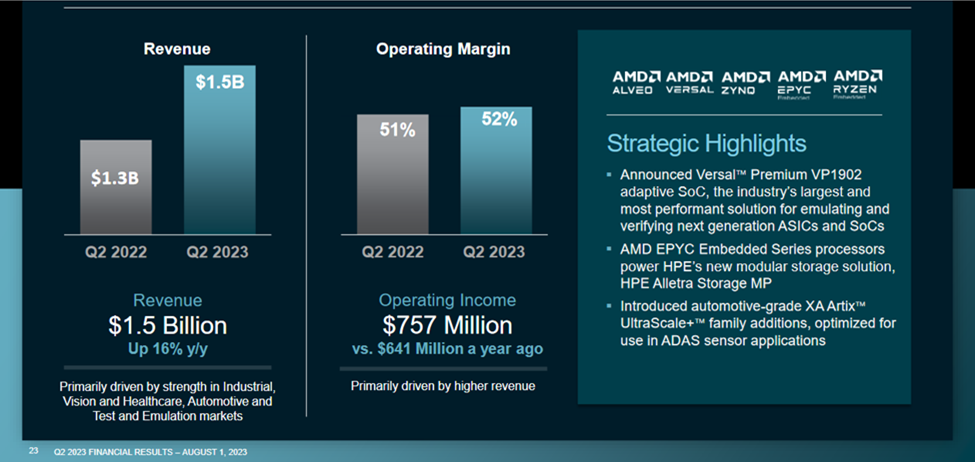 The Embedded segment was once again the bright spot in the quarter with $1.5 billion in revenue, up 16% year over year but down 7% sequentially, primarily driven by strength in the industrial, vision and health care, automotive, and test and emulation markets.
During the quarter, the company announced the Versal Premium VP1902 adaptive SoC, a high-bandwidth processor for networking and telco traffic. The company also introduced new parts in its automotive-grade XA Artix UltraScale+ family, optimized for ADAS sensors used in automobiles.
Current outlook
For the third quarter of 2023, AMD expects a return to profitability, with revenue to be approximately $5.7 billion, plus or minus $300 million, and expects the non-GAAP gross margin to be approximately 51%.