When introducing the Vision Pro recently at WWDC 2023, Apple announced that as a result of a collaboration with Unity, apps created with Unity tools can be ported to the AR/XR device, where it can take advantage of the full Vision Pro experience.
It's no secret that developers using the Unity game engine have been able to port their apps and titles to a range of platforms, from Sony's PlayStation to Nintendo's Switch. After all, that is the appeal of using Unity tools. Now, there's a new platform that's causing quite a stir, the Apple Vision Pro, and developers are anxious to start building apps for the headset/visual computing system. This week, Apple began serving up the Apple visionOS SDK. But did you know that developers using Unity's authoring tools to build 3D apps and games will be able to port their applications to Apple Vision Pro and take full advantage of the device's capabilities?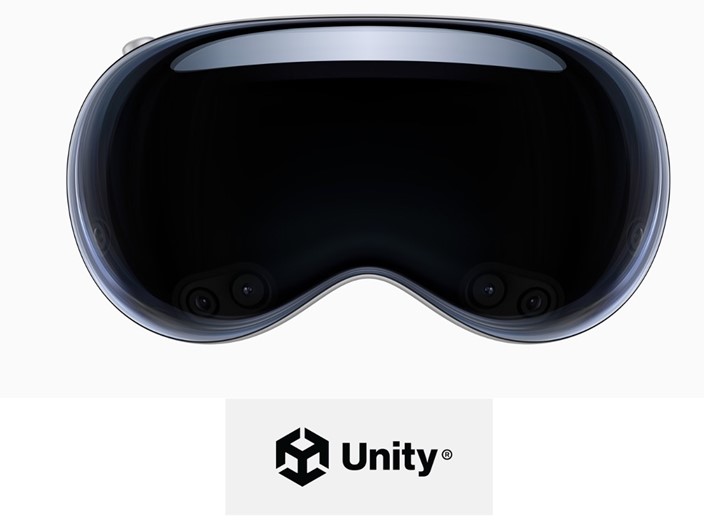 Indeed, Unity is collaborating with Apple to bring deep integration between Unity's new PolySpatial technology and Apple's visionOS. Now, developers can use Unity's familiar authoring tools to create new apps and games or reimagine their existing Unity-created projects for visionOS. According to Apple, those apps will get access to all the benefits of visionOS, such as pass-through and Dynamically Foveated Rendering (which uses eye tracking to focus processing on certain areas of an image), in addition to familiar Unity features like AR Foundation and XR Interaction Toolkit.
RealityKit is Apple's 3D rendering engine, which uses the open-standard MaterialX for authoring materials. By combining Unity's authoring and simulation capabilities with RealityKit-managed app rendering, content created with Unity will look at home in visionOS and run alongside other visionOS apps in the shared space, Apple said.
Unity has a beta program for visionOS that includes tutorials, templates, and sample apps.
"We know there's a community of developers who've been building incredible 3D apps for years. And today, we are excited to share that we've been working with Unity to bring those apps to Vision Pro. So, popular Unity-based games and apps can gain full access to visionOS features such as pass-through, high-resolution rendering, and native gestures. And because these Unity apps are running natively on Apple Vision Pro, they can sit side-by-side, rendered simultaneously, with other visionOS apps," Susan Prescott, Apple's VP of worldwide developer relations, stated during Vision Pro's recent introduction at WWDC 2023. "We've been building toward this moment for years. Our work, together with Unity, to deeply support their tools, combined with the world-class rendering of visionOS and powerful displays, make Apple Vision Pro and incredible platform for game developers."
The announcement is proving to be a boon for Unity, presently and likely in the longer term. Unity stock rose significantly and closed at an increase of 17% after Apple revealed the relationship at WWDC. Unity has made significant purchases over the past few years in its bid to grow its tools and make the platform more robust.