VIEW Conference, an annual computer graphics event in Turin, Italy, will be held this year October 15–20, 2023. If you are not able to attend in person, tickets are available to access online recordings of the sessions, which will begin streaming November 2023.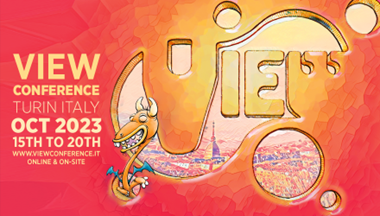 VIEW Conference is an international event focused on computer graphics, interactive techniques, digital cinema, 2D/3D animation, VR and AR, gaming, and VFX. This year marks the 24th anniversary for this international VFX computer graphics conference, which will be held in Turin, Italy, October 15–20, 2023. The conference offers extensive sessions of talks, presentations, workshops, and masterclasses on storytelling, virtual production, computer graphics, interactive and immersive media, VR/AR/MR and the metaverse, artificial intelligence, real-time rendering, and more.
This year's conference will be a hybrid event. In addition to the in-person attendance option, on-demand tickets can be purchased to access session recordings from the conference. The stream will begin in November 2023. However, session recordings from previous years' conference are available to stream now.
As always, the conference will feature an impressive lineup from the industry. This year, Jeff Rowe, director of Teenage Mutant Ninja Turtles: Mutant Mayhem, and Mark Ulano, Oscar-winning sound mixer, will be speaking. Ulano will be discussing his methodology and sharing stories from the set of Martin Scorsese's latest feature Killers of the Flower Moon. He will talk about using the creative sound palette during the entire process of making a film, telling the story.
Some other confirmed speakers include:
Henry Selick—BAFTA Award winner and Oscar nominee, legendary director of stop-motion animated features including Coraline and Wendell & Wild.
Joaquim Dos Santos—Annie Award winner, director of Spider-Man: Across the Spider-Verse.
Peter Sohn—Annie Award nominee, vice president/creative director at Pixar Animation Studios and director of Pixar's Elemental.
Sam Fell—Oscar and BAFTA Award nominee, director of Chicken Run: Dawn of the Nugget.
Troy Quane and Nick Bruno—Directors of Nimona.
Peter Ramsey—Oscar and BAFTA Award winner, director of Spider-Man: Into the Spider-Verse; executive producer of Spider-Man: Across the Spider-Verse and Kizazi Moto: Generation Fire.
Doug Chiang—Oscar-winner; BAFTA Award winner, vice president/executive creative director at Lucasfilm.
ND Stevenson—National Book Award nominee, New York Times best-selling author, author, creator & executive producer of Nimona.
Ted Ty—Global head of character animation, DNeg Animation.
Joe Letteri—Five-time Oscar winner, BAFTA Award winner, senior VFX supervisor of Avatar: The Way of Water at Wētā FX.
Mike Lasker – VES Award nominee, VFX supervisor of Spider-Man: Across the Spider-Verse at Sony Pictures Imageworks
Stephane Ceretti—Oscar nominee, BAFTA Award nominee, VFX supervisor of Guardians of the Galaxy Vol. 3 at Marvel Studios.
John Gaeta—Oscar-winner, BAFTA Award winner, CCO at Inworld AI.
Bruno Coulais—Oscar nominee, BAFTA Award nominee, composer.
Andreas Deja—Annie Award winner, creator and director of Mushka.
Paul Debevec—Academy Award-winner, director of research, creative algorithms, and technology at Netflix.
Hal Hickel—Oscar winner, BAFTA Award winner, animation supervisor of The Mandalorian at Industrial Light & Magic.
Dylan Sisson—Creative pioneer behind Pixar's award-winning RenderMan software.
Eloi Champagne—Technical director at the National Film Board of Canada.
Nikola Damjanov—Lead game artist at Nordeus.
Jan-Bart van Beek—BAFTA Award winner, studio director at Guerrilla Games.
Almu Redondo—Annie Award nominee, production designer, Cartoon Saloon.
Apollonia Hartmann—VFX producer, Accenture Song Content (formerly Mackevision).
Richard Kerris—Vice president, DevRel/Omniverse, IGM M&E at Nvidia.
Michael Coldewey—German Academy Award winner, German TV Award winner, Professor of Concept Art, Drawing & Design at the Media Design University of Applied Sciences in Munich.
Andreas Maaninka—VES Award nominee, VFX supervisor.
Alwyn Hunt—Head of education, partnerships, Adobe and co-founder, The Rookies.
Martin Nebelong—Digital artist.