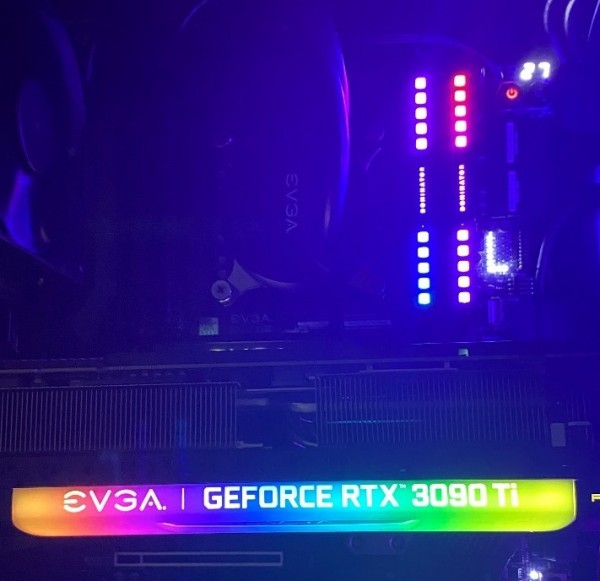 EVGA's RTX 3090 Ti FTW3 Ultra Gaming AIB in its natural environment
The RTX 3090 Ti is an imposing AIB, and that is even before you get it out of the box, weighing in at more than 5 pounds. However, you become truly impressed with its size only after you see it. EVGA's FTW3 3090 Ti Ultra Gaming's dimensions are 11.5 inches in length, 4.5 inches in width, and 3 inches in height and weighs in at 4 lbs. 11 onces. The only other add-in board that I can remember rivaling those numbers is the Fermi 2.0-based ASUS ROG MARS II. That jaw-dropping board measured 13 inches in length, 6.2 inches in width, and 2.5 inches in height and was a whopping 6.61 lbs! It was a three-slot board with three 8-pin connectors. Despite the RTX 3090 Ti's impressive size, The MARS II is still the king of colossal add-in boards.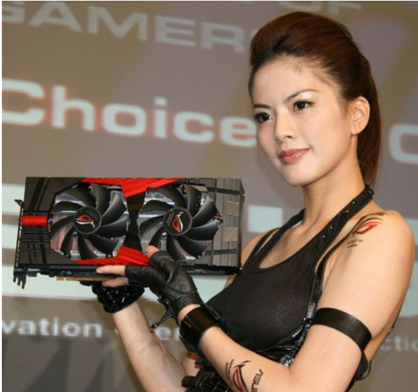 The ASUS MARS II released in 2011 was truly a behemoth
Most of the size of EVGA's FTW3 Ultra Gaming RTX 3090 Ti comes from the impressive cooling system. The EVGA board has a new vapor chamber heat sink that EVGA says spreads heat in two dimensions. As the GPU gets hotter, liquid in the vapor chamber is vaporized and spreads throughout the chamber through micro-thin heat pipes to maximize cooling efficiency. As the GPU cools down, the vapor returns to a liquid state, and the process starts again. Along with the vapor chamber, EVGA includes a 3.5-slot heat sink, providing an impressive amount of heat dissipation area for the board. Topping the Ampere-based board is the EVGA Hydrodynamic Bearing 2.0 3 fan system. FTW3 Series feature an optimized 0dB mode under low loads and asynchronous fan operation. In addition, a special raised "E" pattern on the fan blades reduces airflow noise under normal operation.
We tested EVGA's FTW3 RTX 3090 Ti with Nvidia's former flagship board, the RTX 3080 Ti, and the Navi 21-based AMD AIB, the RX 6800 XT.
RTX 3090 Ti
RX 6800 XT
RTX 3080 Ti
GPU
GA 102
Navi 21
Ga 102
Cores
10752
4608
10240
Memory (GB)
24
16
12
Memory type
GDDR6X
GDDR6
GDDR6
Memory Clock (MHz)
1313
2000
1188
Core Clock (MHz)
1560
1825
1365
Boost Clock (MHz)
1860
2250
1665
Memory Bandwidth (GBytes)
1008
512
912
Memory Bus Size
384-bit
256-bit
384-bit
TDP (W)
450
300
350
Die Size (mm²)
628
520
628
Release Date
January 22
October 20
May 21
$ MSRP (at launch)
199
649
1199
GPU comparison
The following table shows the games we used to test the RTX 3090 Ti. We added the new Basemark benchmark Relic of Life to our test suite that focuses on ray tracing performance. We focused out testing on 4K and 1440p resolutions, we used the highest available visual presets (Ultra) and ran the tests both with ray tracing enabled and disabled.
3DMark: Time Spy
3Dmark: Tim Spy Extreme
3DMark: Port Royal
3Dmark: DirectX RT Feature Test
Basemark: Relic of Life
FYQD-Studio: Bright Memory Infinite
4A Games: Metro Exodus Enhanced
Rebellion: Evil Genius 2
Rockstar Games: Red Dead 2
Counterplay Games: Godfall
Ubisoft: Far Cry 6
Ubisoft: Assassin's Creed Valhalla
The Farm 51: Chernobylite
Ubisoft: Watch Dogs: Legion
Test suite
For only the second time, we employed our new test bed system, which features a 12th-generation Core i9-12900K aboard an EVGA Z690 Classified 1.2.0 motherboard with 32GB of Corsair Dominator Platinum DDR5 RAM running at 6400 MHz with a Samsung 980 PRO 1TB NVMe.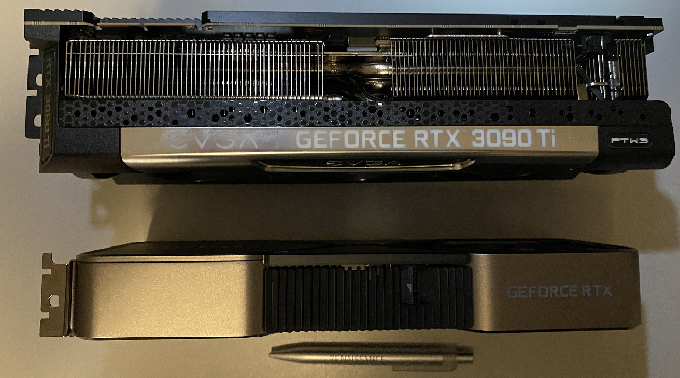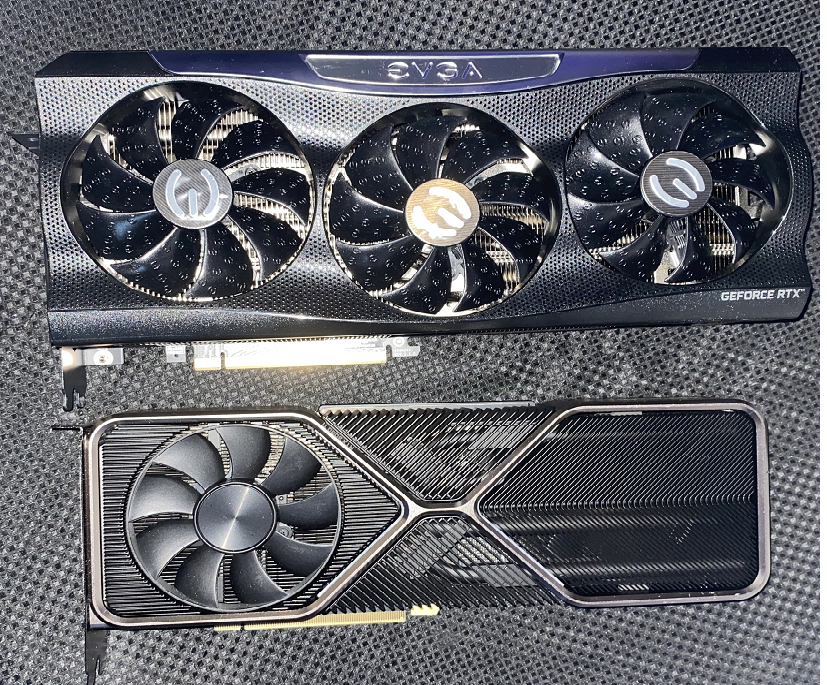 Size comparison of the RTX 3090 Ti to the RTX 3080 Ti
The raw average FPS and synthetic scores are represented in the following table. In addition to the game scores, JPR includes its Pmark computation, which factors in the power and MSRP of the add-in boards.
RTX 3090 Ti
RX 6800 XT
RTX 3080 Ti
4K Avg. FPS
93.27
71.00
81.70
1440p Avg. FPS
157.3
129.4
138.5
4K Avg. FPS w/ RT
52.5
27.1
46
1440p FPS w/ RT
86.3
46.5
77.44
Synthetic Scores
15944
13707
14332
Synthetic w/ RT Scores
7602
3922
6776
TFLOPS
40
20.74
34.1
$ MSRP
1999
649
1199
TGP (W)
450
300
350
Pmark comparison variables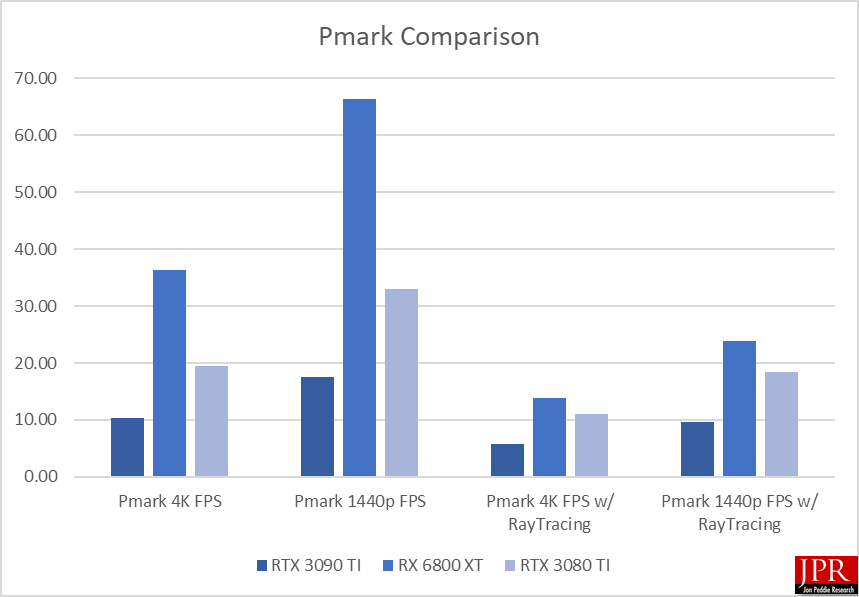 Pmark comparison
Not surprising, the RX 6800 XT performed very well in the Pmark scoring. The RX 6800 XT produced solid frame rates in both 4K and 1440p gaming. The high MSRP and 450-watt power usage of the RTX 3090 Ti held it back in this comparison.
Where the EVGA RTX 3090 Ti shines is in high-end gaming raw performance with ray tracing and all the bells and whistles enabled.
In 4K gaming with ray tracing enabled, the RTX 3090 Ti average frame rates are better than 93% of the RX 6800 XT and 14% better than the RTX 3080 Ti.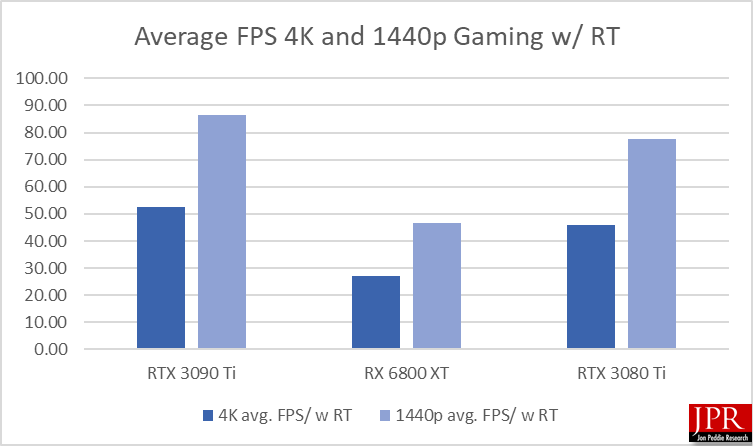 The RTX 3090 Ti produces over 50 FPS in 4K gaming with ray tracing enabled
Basemark's Relic of Life benchmark is the world's first Vulkan ray tracing benchmark. Relic of Life allows you to test your AIB's ray tracing capabilities in both Vulkan and DX 12 APIs. The RTX 3090 Ti performed remarkably well in the test, outscoring the RTX 3080 Ti and RX 6800 XT by 13.5% and 220%, respectively.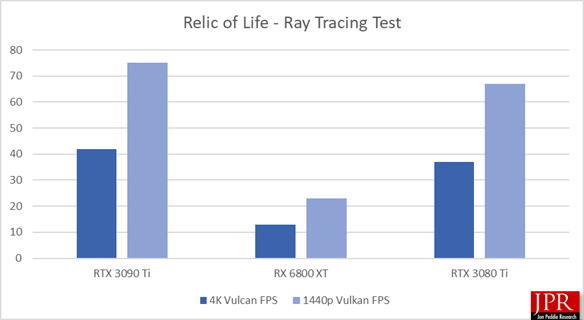 The RTX 3090 Ti performs very well in ray tracing-based tests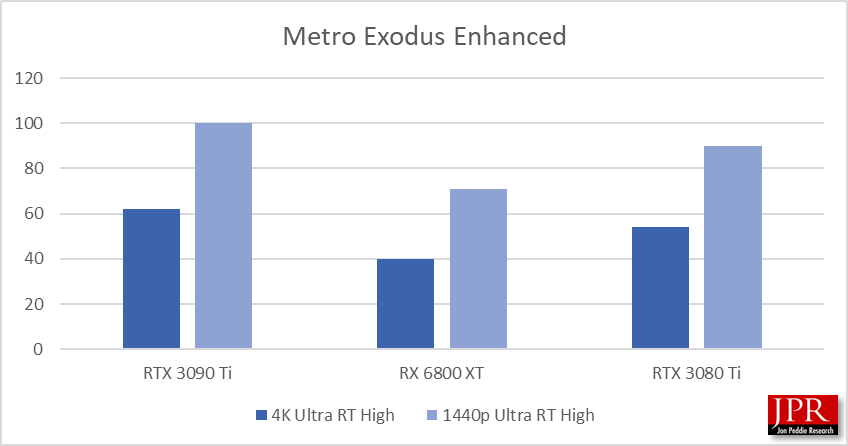 Metro Exodus enhanced
The RTX 3090 Ti in the new Metro Exodus with enhanced ray tracing outscored the RTX 6800 XT by 55% in 4K and performed 15% better than the RTX 3080 Ti.
The RTX 3090 Ti, as stated above, is a massive add-in board with a steep price point. The board itself performs as expected in higher resolutions; it is the most powerful board on the market. However, if it is worth the price would have to depend on what the buyer is looking for. The RTX 3080 Ti stacked up very well with the new flagship card. The RTX 3090 Ti outperformed the 3080 Ti by 14% on average but comes at a price point that is 66% higher. We believe the RTX 3090 Ti would be worth it for certain games, especially for gamers who play at 8K or want to upgrade to 8K gaming.
Pricing for the GeForce RTX 3090 Ti starts at USD $1,999. In the US, the Founders Edition version of the RTX 3090 Ti is available from Best Buy online.
What do we think?
The GeForce RTX 3090 Ti is primarily designed for the most ambitious users—some folks want to game at the highest resolution with everything enabled. They crave the most immersive experience, no matter the price, have the bragging rights to prove it, and are the early adopters of next-generation 8K displays. The GeForce RTX 3090 Ti lets you play, capture, and watch your games in brilliant 8K HDR with DLSS Ultra Performance mode for 8K gaming, HDMI 2.1 for single-cable connectivity to 8K TVs, GeForce Experience support for 8K HDR game capture, and AV1 decode for efficient playback of 8K HDR streamed video.
The good news from last month that the Biden administration was taking the tariffs off of processors from China has affected the market. The RTX 3090 Ti, which was going for $350 above MSRP in March, can now be found for $1,999 on New Egg. So finally, just maybe we have seen add-in board prices reach their peak. For the time being, you can buy a solid-performing AIB for the original MSRP. You might want to make a purchase soon.