The Academy Software Foundation is getting ready for its Open Source Days, which will be held August 6 in Los Angeles. Attendance to the hybrid event is free and open to the public. There will also be a virtual town hall series from July 25 through August 3, as well as related Birds of a Feather sessions on August 7 during Siggraph 2023.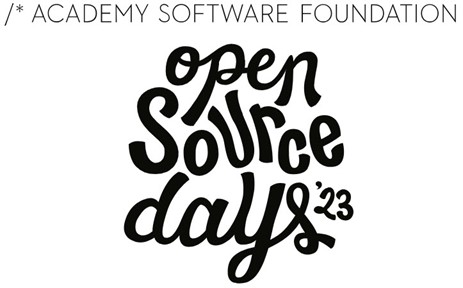 The Academy Software Foundation (ASF) has announced the full schedule for its upcoming Open Source Days event, which encourages open-source software development for the visual effects, animation, and DCC industries, and facilitates professionals from creative studios, software and hardware companies, etc., to work together. Open Source Days will be held August 6 in Los Angeles, although the main program will be held in hybrid mode.
New addition to the event this year is a virtual town hall series with presentations scheduled from July 25 through August 3. There also will be a full day of Birds of a Feather sessions at Siggraph on August 7.
Wenzel Jakob, assistant professor in the Realistic Graphics Lab at Switzerland's EPFL School of Computer and Communication Sciences, will deliver this year's Open Source Days keynote titled Strategies for Open Source Development in Academia. Jakob has been doing research in inverse graphics, material appearance modeling, and physically-based rendering algorithms, using invertible simulations and developing algorithms and systems to solve real-world problems. He has previously been recognized with the ACM Siggraph Significant Researcher Award, the Eurographics Young Researcher Award, and an ERC Starting Grant.
The main program will also feature a keynote panel titled Towards 3D Interoperability with Universal Scene Description (OpenUSD), featuring executives from Pixar, Apple, Nvidia, Autodesk, and Adobe.
Speakers from Amazon Web Services, Canonical, Cinesite, DNeg, Epic Games, Foundry, Intel, Jellyfish, and Orange Turbine will also give presentations at the event. Sessions include:
State of the Academy Software Foundation
Gaffer: Open Source Lookdev, Lighting, and Automation
Forty-Eight Stories: Open Source Inside Autodesk
Multiple Architectures, One API: Embree 4.0 and Open Image Denoise 2.0
Best Practices When Developing and Releasing Open Source Tools
Using OpenAssetIO, OpenTimelineIO, and Open RV to Demonstrate the MovieLabs 2030 Vision
Making xSTUDIO a Cross-Platform Reality
Portable Render Jobs for Open Source Content Production Pipelines 
To view the full main program schedule and register, click here.
New virtual town hall series for foundation projects
Expanding the Open Source Days event this year, the Academy Software Foundation is offering a one-hour virtual town hall series. Academy Software Foundation projects and working groups including MaterialX, OpenColorIO, OpenAssetIO, Open Review Initiative, OpenTimelineIO, and OpenEXR, among others, will share milestones, highlights, future road maps, and answer questions from the community during these sessions. Both new and experienced users, contributors, and anyone interested in learning more about ASF projects can attend the virtual town halls.
To view the full virtual town hall schedule and register, click here. Both the main program on August 6 and the virtual town halls are free and open to all.
Siggraph Birds of a Feather sessions
Open Source Days 2023 will conclude with a full day of open-source Birds of a Feather sessions on August 7 at the JW Marriott LA Live. These sessions will be in-person only, and attendees must be registered through Siggraph.