Meta is preparing to enter the mixed-reality world yet again, this time with its Quest 3, a redesigned headset that is more powerful than its predecessors and will do both MR and VR. The Meta Quest 3 will be available in the fall with a starting price of just under $500.
The headset market has been moving forward inch by inch, and Meta just added at least a foot to that by announcing its next-generation virtual and mixed reality Meta Quest 3, arriving in the fall.
In a not-all-that-surprising way, the heralding of the Meta Quest 3's anticipated arrival last month came via social media (Mark Zuckerberg's Instagram) and in a video on the company's website. Redesigned from the inside out, the device is smaller (about 40% slimmer) than its predecessor, the Meta Quest 2. It is also designed to be more comfortable for the wearer. On the inside, the headset has double the GPU processing power for faster and smoother experiences, and boasts Meta's highest resolution display yet, according to the company.
The 128GB Quest 3 features a next-generation Qualcomm Snapdragon chipset for twice the graphical performance offered by the Snapdragon GPU in the Quest 2.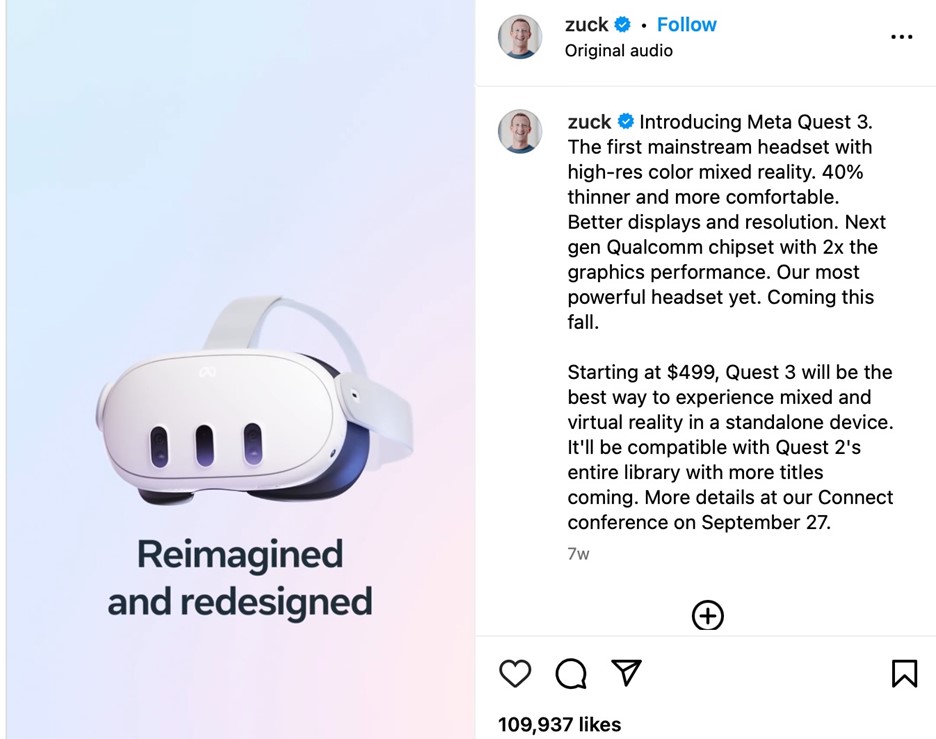 The Quest 3 system offers:
A dual camera set, one on each side of the headset comprising a 4MP RGB camera and standard camera for passthrough.
A depth sensor for more accurate representation of the play space.
A reported resolution of 2064×2208 pixels per eye (not confirmed by Meta).
An LCD screen.
10× more pixels in passthrough as compared to Quest 2.
Optional added storage.
Redesigned Touch Plus controllers that are more streamlined and ergonomic (no more tracking rings).
TruTouch controller haptics for improved touch/feel.
Hand tracking supported out of the box with Direct Touch, negating the need for controllers for light exploration.
Best Buy also is offering up some details on the headset, noting a 30% increase in resolution for the headset compared to the Quest 2, whose panel resolution offers 1920×1832 pixels per eye. (This tracks with the Quest 3's resolution of 2064×2208 pixels per eye being reported online.)
According to Meta, the Quest 3 is capable of immersive VR as well as MR within this one device. It features the company's Meta Reality technology for seamlessly blending the physical world with that of the virtual world. "These new experiences go beyond today's mixed reality by intelligently understanding and responding to objects in your physical space and allowing you to navigate that space in natural, intuitive ways that were nearly impossible before," the company states on its website. "High-fidelity color passthrough, innovative machine learning, and spatial understanding let you interact with virtual content and the physical world simultaneously, creating limitless possibilities to explore."
Quest 3 is backward compatible with the Quest 2 growing catalog of 500-plus VR games, apps, and experiences; new VR and MR titles will be available at launch of the new headset, Meta says.
More information about Quest 3 will be shared at Meta Connect on September 27. The headset will ship "in the fall," the company says, and will have a starting price of $499.99.
Meanwhile, the company has lowered the price of its Quest 2, which began shipping in the fall of 2020, to $299.99 and $349.99 for the 128GB and 256GB versions, respectively. While Meta is lowering the prices of Quest 2 and the MR Quest Pro, it is increasing performance with an update to the software, GPU, and CPU, resulting in as much as a 26% increase in CPU performance and 19% GPU speed for Quest 2 and 11% for Quest Pro, the company says. Both the Quest 2 and Quest Pro will offer dynamic resolution scaling as well, for increased pixel density without dropping frames.
This YouTube video shows what users can expect from those improvements to Meta Quest 2 and Quest Pro.
Despite reports to the contrary, Meta states that it will continue to sell Quest 2 and Quest Pro, in addition to Quest 3. Meta launched the Quest Pro last October, with a starting price of $1,500, only to reduce that to $1,000 a few months later.
In comparison to the Quest 3, Apple's Vision Pro will be a custom Micro-OLED system featuring 23 million pixels, and it will be technologically jacked, but users will pay for that tech to the tune of $3499. It's clear that with the Meta Quest 3 on the horizon, Sony's PS VR2 in play, and Apple's Vision Pro conjuring up excitement for its 2024 release (but not likely for the price tag), the mixed reality headset market is heating up.