The GPD Win Mini is a clamshell-style handheld gaming device released by GPD HK. They have been creating and crowdfunding handheld devices and ultrabooks for at least seven years, with devices on Indiegogo stretching back to 2016.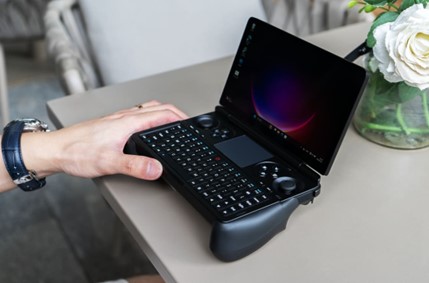 What do we think? While PC gaming is a big business, as illustrated in JPR's bi-annual market study, the handheld market is also thriving, with a range of devices being introduced, among them the GPD Win Mini. The GPD Win Mini seems to be a relatively promising device. GPD HK has  distinguished it from competitors with the clamshell design, which is rare in high-end handheld consoles. The hardware appears solid, although there are potential concerns with heat due to the plastic casing and high temperature nature of many handheld devices. The rumble motors and gyroscope are a great touch, and Hall Effect joysticks are always nice. The product does seem a bit pricey, but it has attracted interest and has raised over $800,000 thus far.
Lastly, although GPD HK is considered Trust Team Proven by Indiegogo, it is important to note that crowdfunding always carries the risk of companies not delivering what's promised.
Shenzhen, China's GPD HK has entered the handheld market once again
GPD HK has published a crowdfunding campaign on Indiegogo for a new handheld gaming console, the GPD Win Mini. The device is a 7-inch, 120Hz refresh gaming device that strays from many of its contemporaries in design. While the vast majority of competitors opt for the controller-esque design, the GPD Win Mini uses a clamshell design reminiscent of the Nintendo DS or a laptop.
Weighing 520g (1.1 pounds), and 168×109×26mm in size, the Win Mini is compact and lightweight. The screen has a resolution of 1920×1080. The device will be preinstalled with Windows 11, with the option to install Steam OS or GPD OS. In terms of hardware, the device will vary depending on what you pay for it. The regular model will feature an AMD Ryzen 5 7640U and an AMD Radeon 760M, while the higher end option will have an AMD Ryzen 7 7840U and a Radeon 780M. Memory will range from 16GB to 32GB, and storage will range from 512GB to 2TB. It has a battery capacity of 44.24Wh and is advertised as lasting for three hours of heavy use, and six to eight hours of moderate use.
The console additionally features Hall Effect mini joysticks, which rely on a magnetic system instead of the traditional potentiometer joysticks, which rely on circuitry. This leads to improved precision and a reduced chance of dead zones. The controller contains built-in dual linear rumble motors, allowing for vibration feedback while gaming. The controller also has a three-axis gyroscope, allowing motion-control gaming as well. In between the joysticks and buttons is a touchpad that supports up to four-finger gestures.
In terms of pricing, the console ranges from $699 to $1,179 and will begin shipping in November 2023, according to GPD HK's Indiegogo campaign.