Epicrisis: Chinese smartphone manufacturer RedMagic, known for its focus on gaming, has launched its latest flagship device, the RedMagic 8S Pro+. The phone offers impressive features, including an overclocked Snapdragon processor, an OLED display with shoulder triggers, and a large battery. It claims to be one of the most powerful gaming smartphones, with configurations up to 24GB of RAM and 1TB of storage. The device also boasts a high-quality AMOLED display, a customizable gaming chip, an advanced cooling system, and a triple camera setup. The RedMagic 8S Pro+ is available for pre-order in China and will be released internationally on July 27.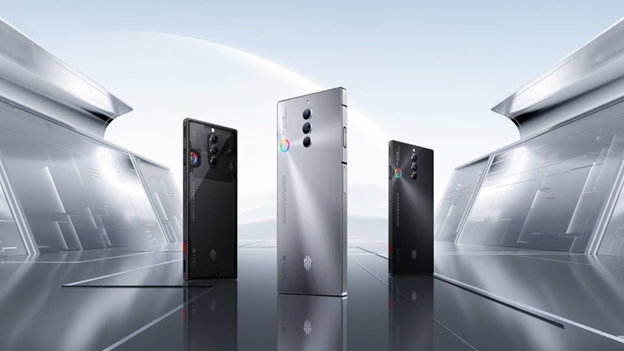 RedMagic is a smartphone manufacturer founded October 2017 in Shenzhen, China, as the gaming arm of Nubia. The company has just introduced its latest flagship device, which claims impressive features without the need for exaggerated claims. The phone includes an overclocked Snapdragon processor, an OLED display with shoulder triggers, a large battery, and a first for a smartphone—fan cooling.
RedMagic claims the 8S Pro+ is one of the most powerful gaming smartphones available. It offers a configuration with 24GB of RAM and 1TB of storage. The company says this combination, along with the Snapdragon 8 Gen 2 mobile chipset, running at speeds of up to 3.36GHz for the processor and 719MHz for the GPU, can effortlessly handle any Android game.
The device features a 6.8-inch, 2,480×1,116-resolution AMOLED display, providing a screen-to-body ratio of 93.7%, with a 120Hz refresh rate, a peak brightness of 1,300 nits, high color (100% of the DCI-P3 gamut), a 1ms response time, and a touch-sampling rate of 960Hz. The RedMagic 8S Pro+ also includes a Red Core 2 gaming chip that allows users to customize vibration, lighting effects, sound, and shoulder triggers according to their preferences.
To prevent overheating during intense gaming sessions, RedMagic has incorporated the ICE 12.0 cooling system. This system consists of a 20,000 rpm shark-fin fan, a double-pump vapor chamber, under-screen graphene, and a 10-layer heat dissipation mechanism. Its heat dissipation system incorporates ultra-soft high thermal conductivity rare-earth material, under-screen copper foil, high thermal conductivity gel, composite graphene, and superconducting copper foil. These components work together to maximize performance and, claims RedMagic, will enable sustained heavy gaming for up to nine hours per charge.
The device offers two charging options for its 5,000 mAh battery. Users can opt for a 165W magic-flash fast charger that can fully charge the phone in just 14 minutes. Additionally, a standard 165W charger is available.
The rear of the device houses a triple camera setup, with the main camera featuring a 50MP sensor. RedMagic claims that this camera offers excellent focus speed, performs well in low-light conditions, and supports HDR.
The domestic version of the phone runs on RedMagic OS 8.0, which is described as an all-in-one professional gaming system. It includes an X Gravity platform that supports cloud gaming. Users also have the option to connect the phone directly to a monitor via USB-C or use screencasting with 4K support. The device comes with Wi-Fi 7 multi-antenna with enhanced anti-interference capabilities, Bluetooth 5.3 connectivity, and 5G mobile Internet.
Other notable features of the RedMagic 8S Pro+ include three microphones, dual DTS Ultra X speakers, more than 200 types of vibration effects through two linear motors, and attractive RGB lighting, all designed to enhance the gaming experience.
The top-of-the-line model is currently available for preorder in China at a price of ¥7,499 (approximately US$1,000). Cheaper versions are also offered, including the 8S Pro with a maximum of 12GB of RAM and 512GB of storage. International models will be available for general sale starting July 27, although the specific markets have not been announced.