Qualcomm has a dominant position in the VR, XR, and AR processor markets, making it the go-to choice for companies entering these sectors. Qualcomm's involvement in XR dates back to 2013, with research efforts beginning in 2007. They've maintained a near monopoly as the primary chipset provider since the Snapdragon 805 in 2013. Meta, formerly known as Facebook, has been striving to establish itself in VR. The newly released Quest 3 employs Qualcomm's XR2 Gen 2 chip, offering significant graphical performance gains. It features a 4K+ Infinite Display but lacks eye tracking, possibly for cost reasons. The Touch Plus controllers offer self-tracking and TruTouch haptics. Meta has sold nearly 20 million Quest headsets, primarily used for gaming. Additionally, Meta introduced smart glasses in collaboration with Ray-Ban, powered by Qualcomm's AR1 Gen1 processor. These glasses enhance audio processing and camera capabilities, with prices starting at $299, although lower-cost camera glasses are available on the market.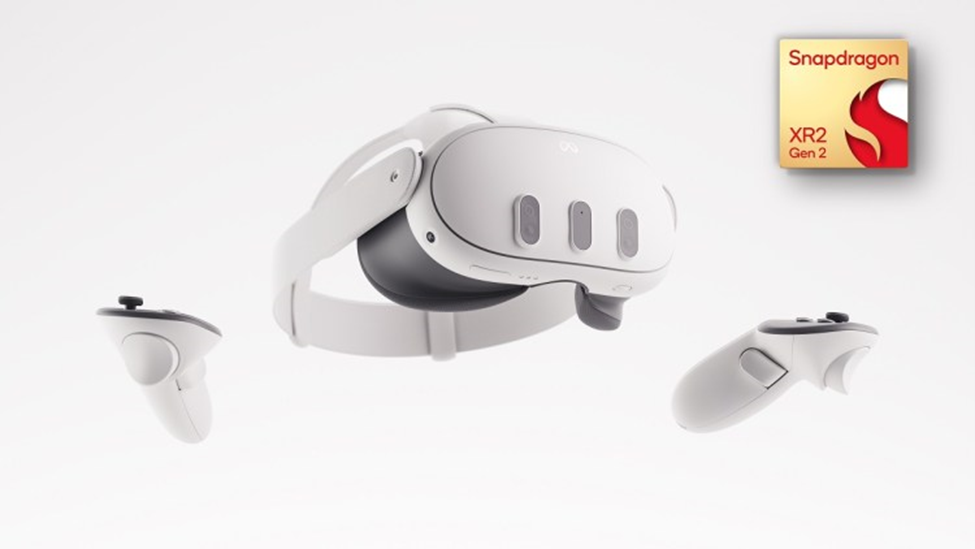 What do we think? A lot of people associate VR with the metaverse, and Meta's Quest 3 will just enhance that concept. Consumer VR has never lived up to the hype for it and hasn't really gotten out of the "nice to have" game accessory category. And smart glasses without a display are a novelty, but not essential, although the limited-success sports glasses for bikers looked promising for a niche market. Meta must be credited with putting the company behind the VR and smart glasses concept and has allegedly invested over $3 billion into trying to develop the category and products for it. The research the company is funding is quite impressive. Whether it will ever get a payback is unlikely.
Qualcomm's Snapdragon XR2 Gen 2 platform powers the new Meta Quest 3
Like so many vertical industries, Qualcomm owns the VR, XR, and AR processor markets. So, if you wanted to enter one of those markets, where would you go for a processor? To the company that knows the most about it and invented most of the stack associated with it, of course. Meta is no different, and actually has worked with Qualcomm several times in the past.
Qualcomm has played a pivotal role in the development of XR market since 2013, when the company embarked on its XR journey (and may have even coined the term). Qualcomm had already initiated research in this field as early as 2007. Notably, Qualcomm has maintained its near-monopoly status as the primary chipset provider for the mobile XR market, dating back to the introduction of the Snapdragon 805 in 2013.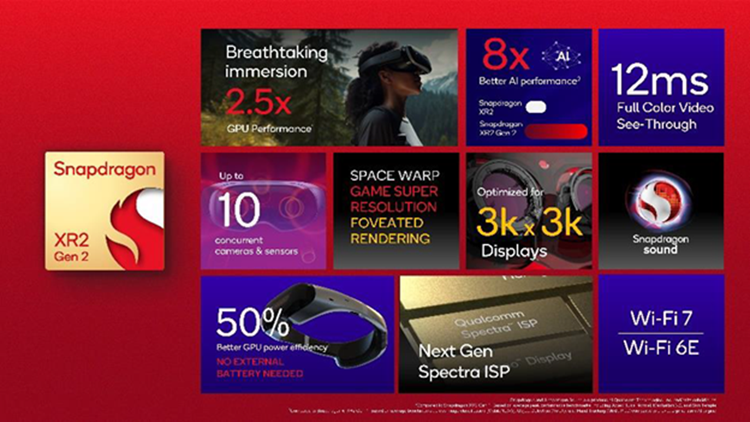 On the other hand, Meta has been struggling to make a name for itself in VR since before it changed its name, but has gotten good to excellent reviews for its Quest series VR HMDs. The company has been one of the very few survivors of VR that still believes there is a consumer market for VR. (One of the other major VR consumer companies is Sony, which is one of the few that doesn't use Qualcomm—it uses MediaTek. The other is Apple, with its Vision Pro—which uses, well, Apple.)
For Meta's latest VR headset, the Quest 3, Qualcomm provided its new 4nm XR2 Gen 2, which the company says offers up to 2.5 times the graphical performance of XR 2 Gen 1 and is 50% more efficient on identical workloads. Meta says the "4K+ Infinite Display with 25 PPD and 1,218 PPI brings the best resolution" to its Quest devices. The resolution is about 2064×2208 pixels per eye, which is pretty good for an LCD display, but being LCD will add heat to the headset and draw power (battery life is around 2 to 3 hours). However, the FOV is good—110 degrees horizontal and 96 degrees vertical.
And, in contrast to the Quest Pro, PlayStation VR2, and Vision Pro, Quest 3 does not incorporate eye tracking. That choice was probably due to cost considerations, given that Qualcomm's XR2 Gen 2 chip can support up to 10 cameras (or sensors) simultaneously.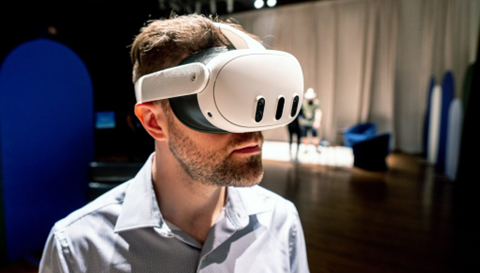 The Quest 3 is equipped with the Touch Plus controllers, although the term new is used somewhat loosely, as they are essentially identical to the controllers included with the Quest Pro. Like their Quest Pro counterparts, the Touch Plus controllers incorporate self-tracking technology, ensuring a complete 360-degree range of motion. This means you won't encounter tracking issues when the controllers are positioned behind your back, for instance.
Additionally, these controllers make use of Meta's TruTouch haptics technology, delivering enhanced feedback. As an example, when interacting with virtual objects, you'll experience tactile resistance on the buttons you're pressing, adding a realistic touch to your virtual experiences.
Meta claims it has sold close to 20 million Quest headsets (mostly Quest 2s). VR, however, will still be defined primarily as a game and maybe fitness experience, and then a few fringe apps like travel, real estate, and museums. But Meta is definitely leading the HMD crowd on price vs. features. At $500 it is easily within the range of most consumers. But it's still a "nice to have but not essential" piece of gear. Very few people will spend more than 30 minutes in an HMD.
Meta also introduced what it is laughingly calling smart glasses. A pair of EssilorLuxottica Ray-Ban spectacles with a 12MP camera. How camera glasses get to be defined as smart is a mystery.
Snap started it, China copied it, Ray-Ban and Meta think they invented it.
Meta's smart glasses make good use of Qualcomm's new AR1 Gen1 processor and its amazing audio processing capabilities. The Ray-Ban glasses have new custom-designed speakers with extended bass, higher maximum volume, and improved directional audio that provides reduced audio leakage for improved calls, music, and podcasts—even in noisy or windy environments. And, when recording a video, the newly designed five-microphone array supports immersive audio recording. So, maybe that's where the smartness comes in—with the audio.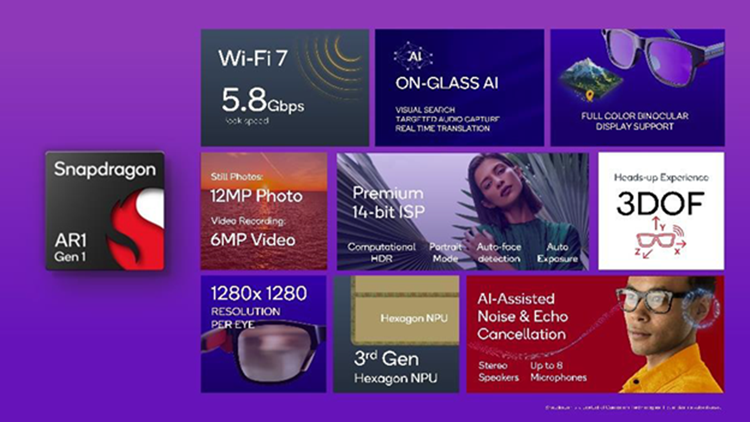 The AR1 employs Qualcomm's FastConnect 7800 for low-latency Wi-Fi and Bluetooth connectivity, and the processor has an upgraded 14-bit ISP.
| | |
| --- | --- |
| Weight | 48.6g, 50.8g, or 49.2g |
| Camera | 12MP Ultra Wide |
| Video recordings | 1440×1920 resolution at 30 FPS |
| Chipset | Qualcomm Snapdragon AR1 Gen 1 |
| Audio | Two open ear speakers |
| Storage | 32GB |
| Battery life | 4 hours |
The camera can take super-high-resolution 12MP photos, or up to one minute of 1080p video. The pricing of the glasses starts at $299. Camera glasses, without the fancy audio capabilities of Meta's, can be found on the Web for as low as $70. Snap's glasses are $200.