We just wrapped up our annual GPU summary report, and boy, what a report it is—319 pages, 245 figures and charts, and 54 tables. It covers shipment data by quarter, benchmarking results, detailed descriptions of new GPU instructions, from IP to mobile devices to supercomputers, and new company introduction.
Intellectual property (IP) suppliers that serve the PC, console, and mobile markets increased to five in 2010 and have remained at that level since. In addition, there are two mobile SoC suppliers, Apple and Qualcomm, that design and manufacture GPUs; all other mobile SoC suppliers used IP from other companies like Arm and Imagination Technologies.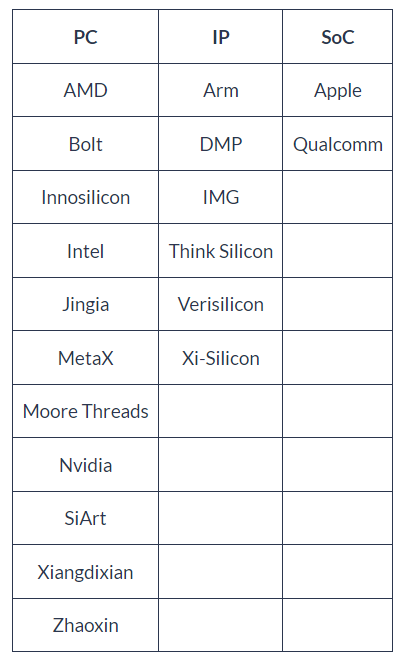 Counting PC, mobile, and IP, there are 19 companies worldwide designing and producing GPUs. Some of the companies make GPUs for various categories. For example, AMD and Intel make GPUs that are integrated with a CPU, AMD makes GPUs and provides IP, Nvidia makes GPUs for the datacenter, PCs, and automobile, while Qualcomm makes SoC used in VR, smartphones, cars, etc.
In 2022, AMD introduced its RDNA 3 GPU, Nvidia introduced its Lovelace RTX 4000 and Hopper family of GPUs, and Intel introduced its long-awaited Arc A750 and A770. Qualcomm introduced real-time ray tracing in their Snapdragon SoC, and MediaTek did the same with their Arm-based Immortals SoC. MetaX promised a consumer gaming GPU, and Moore Threads and Nvidia released new GPUs that meets US Department of Commerce limitations, while the plans of China's Biren were thwarted.
We tested the AMD RX 6500 XT, Intel's A750 and 770, Nvidia Ampere 3050, RTX 3090 Ti, and RTX 3060, 4090, and 4080. The big news in the AIB market was EVGA quits Nvidia.
We looked at 8K and reviewed a few new super-wide, super-fast monitors.
And, we reported on developments at CES, GTC, Hot Chips, and other events.
Meanwhile, the market saw dramatic changes in shipments.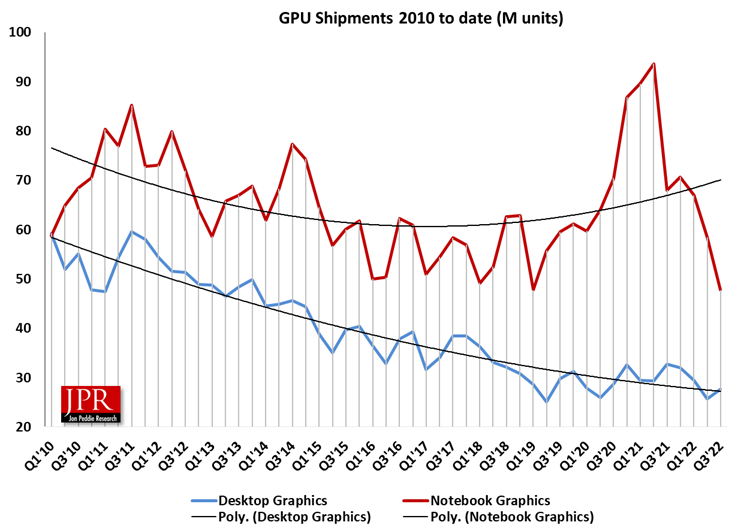 All in all, a lot happened in 2022 with regard to GPUs and their ecosphere. The number of suppliers increased, the market went through a roller-coaster ride that isn't over yet, the levels of performance were pushed to new highs as were the prices for AIBs, and the pace of new development never slowed.
If you would like additional information about the report or to obtain a sample TOC, contact Robert Dow at [email protected]. This informative report in its entirety can be purchased for $995 from the JPR website. JPR offers other in-depth industry reports including the popular Market Watch.