Keith Bentley founded a small software company for the computer-aided design industry four decades ago and stamped his family name on it. He, with the help of his siblings, grew Bentley Systems over the years, helping it evolve as technology evolved. Here, we take a trip back in time to those early days of Bentley Systems. In Part II, Keith details the evolutionary changes that affected Bentley Systems and looks back on his company's legacy as he retires from the company he established and grew.
The early to mid-1980s was a period of significant growth and expansion in the use of computer technology. Mass-marketing of microcomputers had begun a few years before, and things really began heating up soon after when Microsoft introduced the MS-DOS operating system. While the so-called Computer Age had started a few decades prior, the early '80s was a time of evolution, when, in the blink of an eye, personal computers began popping up in offices and homes, forever changing the way we would work and play.
It was during this period, 1981 to be exact, when Keith Bentley, fresh out of college and armed with a master's degree in electrical engineering, took a job with the DuPont chemical company in Wilmington, Delaware, following in the engineering footsteps of his father, who had worked there during his entire career. While there, Keith had been asked about his interests, and he had mentioned that he kind of liked computers. (Back in the 1970s when he attended college, the school did not offer computer science as a major.) He was then directed to a group within DuPont called CAD. "I said great… what's that stand for?" Keith recalls.
Keith would work on CAD software that had been written at DuPont, as well as some commercial software the company had licensed. In his spare time, he wrote bits of code to do visualization, and all of this ran on HP terminals.
Around this time, Barry, an older Bentley brother by two years—he is the second oldest in the family, and Keith is the fourth—was getting his PhD in chemical engineering at Caltech. Barry and his two grad-student roommates had formed their own software company and persuaded Keith to quit his "very good job at DuPont" and join them. "My mother was absolutely petrified. She told me it was the dumbest idea ever," Keith says.
Undeterred, Keith moved to California and started working for his brother's company, writing chemistry software that ran on the firm's two Apple computers. "They were wonderful computers at the time but very, very difficult to program. You had to write everything in assembly language in your head and had only 64K to do it," Keith says. "It was amazing stuff and the most challenging software I had ever written."
However, it seems that mom was right. Despite the group's efforts, the company did not make any money, leading Keith to make a deal with DuPont—which had been using the CAD software that he had written for them—that in exchange for him providing software support, the company would give him the rights to sell the software (despite the fact that DuPont actually owned it). He then started Bentley Systems to sell that software he had written for DuPont. "It quickly became clear, at least to me, that the market for CAD software was way ahead of the market for chemistry software," he says referring to his job at Barry's company. And in 1984, he went all in with Bentley Systems, which was incorporated in Pasadena, California.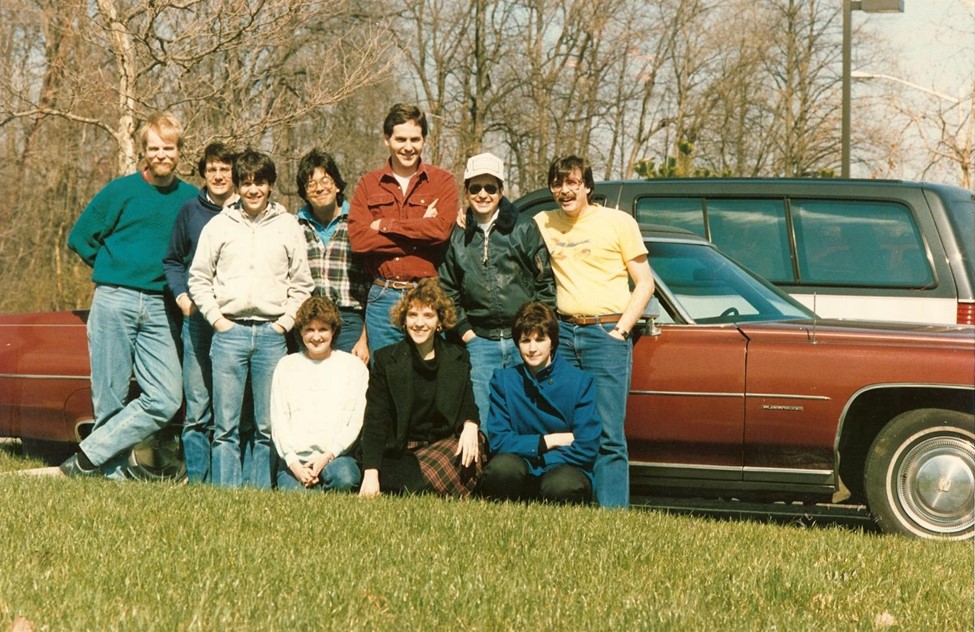 For the first six months or so, Keith was Bentley Systems' sole employee, before he moved the company back East to Philadelphia, closer to where he grew up, and started hiring brothers and friends. The company took off from there. As Keith points out, this was a unique start to their corporate venture in that they had revenue before they had expenses. "And we never took any external money, at least not for the first 10 years of our existence. We were self-funded from the beginning," he says. The company later made another physical move, this one out of the expensive city to nearby Exton, Pennsylvania, where Bentley remains headquartered to this day.
At the start, Keith formed Bentley Systems with the mission of writing software that ran on mainframes; this was a commercial version of PseudoStation, the precursor to MicroStation, in 1985 that was used in Intergraph VAX systems. This was pre-PC days and even before the software ran on SGIs. (Interestingly, Kurt Akeley, one of the founders of SGI and initial inventor of GL, which later became OpenGL, had been Keith's lab partner in college.) Eventually, Bentley software did run on SGI hardware, but not initially. Bentley's MicroStation ran on PCs running DOS, and then on Macs and Unix-based systems. At one point, the software ran on 18 different platforms, Keith says, noting that in those days, PCs did not come with a graphics card; they had to be purchased separately.
In Bentley's early days, CAD stood for computer-aided drafting, Keith says. And the purpose of the computers was to automate the manual process of creating drawings on drafting boards, a process that dates back hundreds of years. People knew drafting, and there was no need to try to convince them on the merits of drafting, he points out. And while computer-aided drafting wasn't difficult, it was expensive. So with the rise of the PC, the barrier of entry to using a computer to do drafting dropped tremendously, by an order of magnitude at least, according to Keith.
This led to a pent-up demand for CAD, and Bentley Systems soon became one of about 20 companies in the market with the mission of trying to do CAD (mostly 2D) on personal computers and automating the manual process and making it easier.
All in the family
In case you were wondering, the Bentley family comprises five boys and one girl, who is the youngest of the group. At one point, all the brothers worked at Bentley Systems.
Barry, an electrical engineer with an MS and PhD in chemical engineering, had started Dynamic Solutions Corp. around the same time that Keith started Bentley Systems, and each sold the other, half of the shares in their respective company. Barry later served as a director and executive officer of Bentley Systems, assuming the position of chairperson of the board from 1984 to 1996. He is one of the originators of Bentley's MicroStation.
After a brief period, Keith and Barry hired brother Scott, who was the reason they moved the company to Philadelphia, where he had been living. Scott later left the company for his own entrepreneurial pursuits. Next brother Ray, a mechanical engineer with a master's degree in computer engineering, came aboard and became one of the original developers at Bentley Systems and has served as a director since 2015. He was a lead developer of MicroStation and a chief architect in the Core-Graphics group. The last brother to join Bentley was Greg in 1991 after he sold his own financial trading software company, which became part of SunGard Data Systems. Greg served on that company's board from 1991 to 2005. With an MBA in finance and decision sciences from Wharton, he assumed the position of CEO and chairperson of the board at Bentley Systems.
"My mom was convinced that all five of her sons were going to become unemployed at the same time," Keith says. Instead, they built a worldwide multibillion-dollar business that carries the family name.
Perhaps having five brothers working for the same company would not be advisable under most circumstances. Keith admits that it is unusual, and as he has often said, he highly recommends against it. But against the odds, it worked out for this family, as they managed to create a thriving business while working together for quite a long period of time. The key: They each focused on what that person was good at, which, luckily, is different things—and they managed to stay out of each other's way, Keith says.
Greg is the current CEO and president. Keith, the principal architect of the company's technology directions, was company president until 1995 and then CEO until 2000. "I was the worst!" Keith says modestly. "Greg is very good at it." Barry and Ray are now retired, and Keith has followed suit after about 40 years at Bentley; his retirement took effect July 1. He has handed over his responsibilities as CTO to Julien Moutte, who had been VP of technology. Keith will join his fellow retired brothers on the board of directors and plans to be in the office one day a week. "We'll see how that goes," Keith says with a chuckle.
In Part II, we track Bentley Systems' early roots in CAD to its rise as a powerhouse infrastructure engineering company, under the steady hand of family.