Siemens is charged up over its recently forged relationship with Freyr Battery, becoming the preferred supplier of automation and digitization technology for the company as it uses digital twins while building gigafactories in Norway and the US.
Siemens unveiled a digital model of next-generation Freyr Battery factories that it had created using Nvidia technology, at the 2023 Hannover Messe trade show. The cloud-based digital twin was created using AWS IoT TwinMaker and demonstrated in a custom Siemens application built on the Nvidia Omniverse platform.
The demo features 3D representations of infrastructure, plant, machinery, equipment, and detailed product and production simulations. The model incorporates operational data from the Freyr factory in Norway and highlights the integration between Siemens Xcelerator and Nvidia Omniverse. The tech offers human ergonomics and safety information; detailed production processes; and real-time physically accurate simulations of products and productions.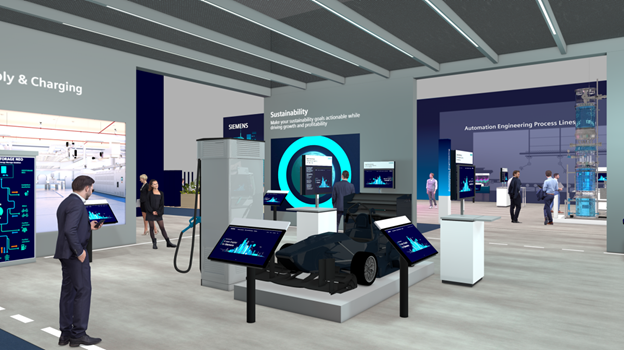 This technology will help Freyr make more informed and faster engineering decisions by interacting with the digital twin in the high-fidelity environment. This will enable Freyr to meet surging demand for high-density, cost-effective battery cells for stationary energy storage, electric mobility, and marine applications, using an open digital business platform. The technology enables real-time performance visualization and ergonomic assessments, and the demo demonstrates how the model can be used for production planning.
This demonstration shows the potential of digital twins, an important recent approach in many areas of design. Digital twins are one of the 10 most important technology trends discussed in JPR's biennial CAD report.
In addition to offering a look at this technology in action, Siemens used the model to highlight a recently announced strategic partnership with Freyr whereby Siemens would become Freyr's preferred supplier of automation and digitization technology, enabling them to scale up production and maximize plant efficiency. Freyr will use the Siemens Xcelerator portfolio, including Siemens Industrial Operations X software and hardware, to design and operate planned gigafactories in Norway and the US.