Imagination Technologies has introduced its IMG DXD, a high-performance GPU IP compatible with DirectX 11. This new GPU offers 2.25× the per-core graphics performance of the previous IMG BXT, making it suitable for cloud gaming companies. It features a dual-core configuration delivering 5 TFLOPS FP32 and 144 GTexel/s, with each core capable of operating independently for maximum efficiency. The IMG DXD design works well with various CPU architectures, including RISC-V, and is compatible with Linux, Android, Windows, and emerging operating systems like UOS and Kylin OS used in China.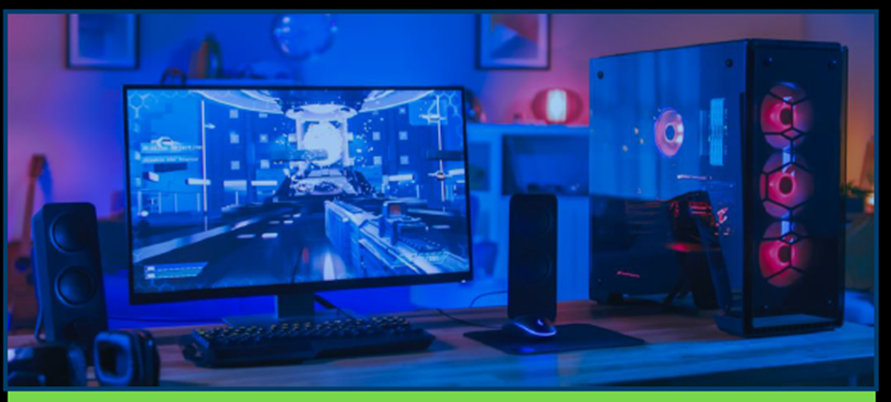 What do we think? Imagination Technologies, formerly called VideoLogic, started in the PC market during its beginning in 1985, and never really left except for a few years here and there. Its GPU technology powers the mighty M3 in Apple's PC, has powered Intel's CPU-GPUs, and was a mainstream player in the late 1990s. So, it's no newcomer and has been a quiet leader in many respects. Its launch of a high-end GPU for the Chinese market through its GPU-AIB partner, Xiangdixian Computing Technology, is a clever move and builds on its Chinese footprint, which started with Innosilicon in 2020. Don't expect to see these Chinese AIBs in the US or Europe, but do expect to see them take market share from AMD and Nvidia in China.
Imagination launches brand-new line of high-performance GPU IP with DirectX
Imagination Technologies launched its IMG DXD, the first product in a new line of high-performance GPU IP compatible DirectX 11. Starting with a hardware-based implementation of DirectX 11 Feature Level 11_0, the new IMG DXD has the API coverage to run popular PC games as well as other Windows-based applications and mobile titles. It has already been licensed for use in the desktop market.
In 1998, the PC graphics industry experienced significant growth, with 47 companies developing graphics chips. The market saw 130 million units shipped, surpassing PC shipments. Users began adding two graphics add-in boards (AIBs) to their PCs for enhanced performance and multimonitor setups. This era marked a crucial turning point in the industry, with 3D capabilities and transform/lighting (T&L) emerging. DirectX 6 was introduced, and the high-bandwidth AGP bus was launched in 1997. Key players included 3dfx, ATI, Nvidia, and S3, along with Tier 2 companies like IBM, Matrox, Number Nine, Rendition, Trident, and VideoLogic.
VideoLogic, founded in 1985, was an early innovator in multimedia, covering audio, graphics, and video. In 1992, it initiated the Trident Project, aimed at creating tile-based deferred rendering (TBDR). In 1994, the PowerVR division was formed, introducing the PowerVR tiling architecture, which incorporated TBDR into their graphics technology.
Imagination Technologies pioneered tiling engines in the early 1990s, influencing other companies like Microsoft, Gigapixel, and Stellar to pursue this technology. Microsoft's Talisman project aimed for similar developments. After acquisitions and changes in the industry, Nvidia eventually adopted tiling technology for specialized geometry processing in 2015. Imagination's last venture into the PC graphics market was in 2002 with the Kyro (see the Kyro story here). The DXD-GPU represents the company's entry into the high-end PC market.
 "This is a significant milestone in Imagination's desktop journey," said Imagination's CEO Simon Beresford-Wylie. "Hardware-based support for DirectX is an essential element of a desktop GPU and, for us, IMG DXD with Feature Level 11_0 is just the start; we are continuing to invest in our API coverage and feature set so that our customers have the GPU IP they need to compete successfully in the desktop market." We presume that means that other DX feature sets are on the horizon, including DirectX 12.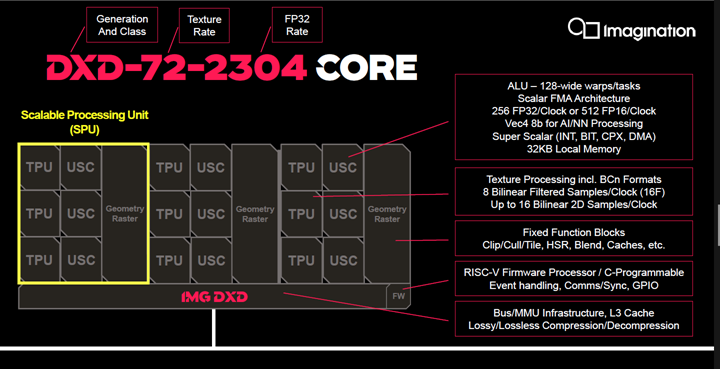 Imagination says the IMG DXD offers 2.25× the per-core graphics performance of IMG BXT, the GPU currently shipping in PCIe form factor boards. Almost two years ago in late 2021, cryptocurrency ASIC builder Innosilicon applied its talents to build a GPU using Imagination Technologies' BXT 32-1024 MC4 RTL IP.* Other Chinese GPU makers have also licensed that technology.
According to the company, an IMG DXD dual-core configuration delivers 5 TFLOPS FP32 and 144 GTexel/s, more than enough, says the company, to satisfy mainstream gamers with smooth frame rates.  Furthermore, says Imagination, licensees can leverage Imagination's innovative multicore technology to continually scale this performance to higher levels.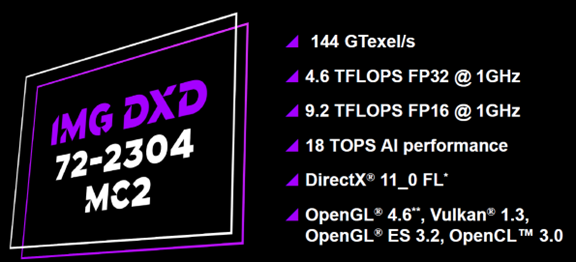 To create the IMG DXD, the company says it brought together three factors to make it suitable for cloud gaming companies looking to optimize service volume and service quality per watt:
Each individual core can operate independently as a separate GPU instance, which, in a cloud gaming scenario, helps maximize the number of gamers that each GPU can host. Alternatively, for maximum performance or quality for a single user (in either a cloud gaming or desktop scenario), the power of all cores can be combined together.
Imagination's HyperLane virtualization technology, which enables each core to host up to eight gamers with security and flexible performance management.
The energy efficiencies of Imagination's PowerVR tile-based deferred rendering architecture, originally designed for mobile devices to provide high-quality 3D graphics to devices with limited battery life.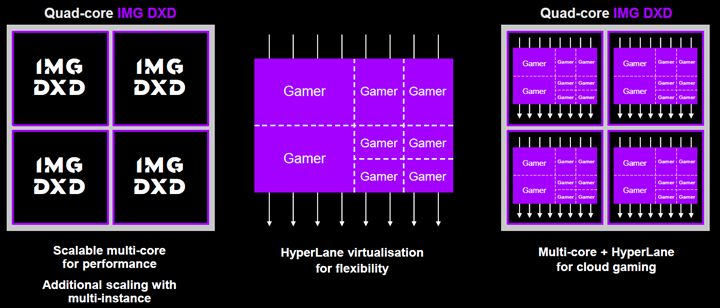 Imagination claims when compared with its closest equivalent, IMG BXT, the IMG DXD offers 40-60% higher peak performance. That improvement, says the company, is due to dual-rate FP16, increased fragment shading rate (which reduces the amount of processing required per frame), 2D dual-rate texturing to speed up post-processing effects in games, the use of ASTC HDR to minimize bandwidth when using high-quality textures, and a RISC-V based firmware processor designed by Imagination, with, says the company, up to 40% higher GPU management performance.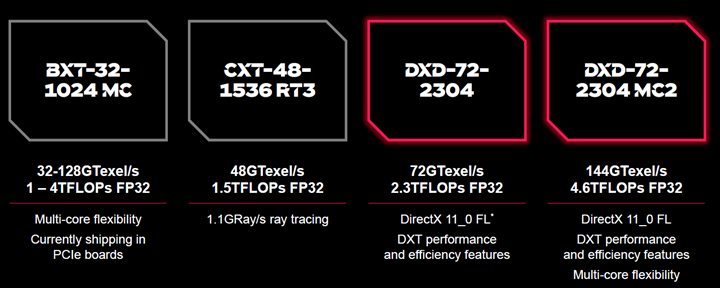 All that appealed to Xiangdixian.
Zhimin Tang, chairman of Xiangdixian Computing Technology (Chongqing) Co., Ltd., says "There is a growing demand in the Chinese market for versatile, high-performance, and power-efficient graphics cards. Xiangdixian is pleased to see Imagination's efforts to incorporate essential desktop features, such as DirectX support and modern gaming optimizations, into their newly released IMG DXD GPU IP products. Xiangdixian is committed to developing tailored graphics products aligned with these enhancements, to ensure they meet the evolving needs of customers."
In our annual GPU summary report (comprising 319 pages and 245 figures), we list the 18 companies worldwide designing and producing GPUs. Some of the companies make GPUs for various categories. For example, AMD and Intel make GPUs that are integrated with a CPU; AMD makes GPUs and provides IP; Nvidia makes GPUs for the data center, PCs, and automotive; and Qualcomm makes SoC used in VR, smartphones, cars, etc.
Intellectual property (IP) suppliers that serve the PC, console, and mobile markets increased to five in 2010 and have remained at that level since. In addition, there are two mobile SoC suppliers, Apple, Huawei and Qualcomm, that design and manufacture GPUs; all other mobile SoC suppliers used IP from other companies like AMD and Imagination Technologies.
The graphics card market is rapidly diversifying, particularly in China. Ambitious companies, backed with lots of state funding, are accelerating their time to market. The embargoes force the engineers to focus on the differentiation that's important to desktop and cloud gaming customers, while carefully avoiding non-gaming AI acceleration. That's one of the advantages an IP solution offers. Imagination says its IMG DXD design works well with popular CPU architectures, including RISC-V. It is compatible with Linux, Android, and Windows, as well as emerging operating systems such as UOS and Kylin OS being deployed in China.
* If you are not a TechWatch subscriber and would like to read this article, contact [email protected].