There's biking, and then there's cycling. Competitors know the difference. In a sport where speed, stamina, strength, and strategy are important, mere seconds can mean the difference between a Tour de France win and second place. Manufacturers like Trek, whose cycles are ridden in the ultimate cycling competition, Tour de France, must carefully design a product that is aerodynamic, responsive, and comfortable during long races. To help Trek achieve those goals for its new Madone racing bike, it used state-of-the-art design tools and Nvidia GPUs to build a better, faster version of the bike for a new standard in speed.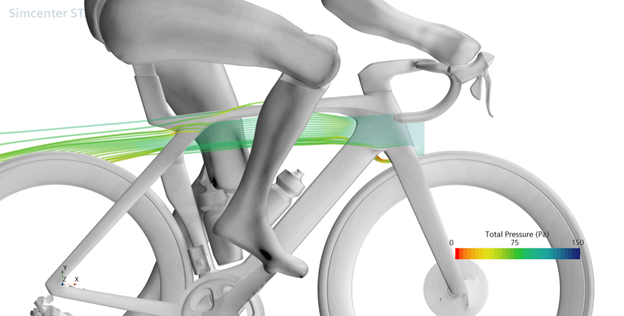 When competing in certain sporting events where speed is a major consideration, the difference between placing first and placing second can come down to seconds, or even a fraction of a second. Consider the annual Tour de France, for instance, a grueling multistage bicycle race during which competitors traverse an approximately 2,200-mile course through the French countryside that occurs in 21 daylong stages. Each day's timed score is added to an ongoing tabulation, and the person with the lowest accumulated score at the end of each leg gets the honor of wearing the race's sought-after yellow jersey during the next day's stage. In addition, there are a handful of other sub-competitions held throughout the race—for instance, a polka dot jersey is awarded for the mountains classification.
The Tour de France segments are mostly road stages (there are time-trial stages as well). For those road stages, competitors usually have two different types of bikes—one for flat stages and one that's lighter for inclines. These are no ordinary bikes, however, and you won't find them at your neighborhood bicycle shop. They are very high end and specially designed using high-tech tools and technology, including simulations, in order to shave off every possible microsecond from the design.
Like any well-tuned athlete, cyclists are particular about the brand they use, and during the Tour de France, names like Pinarello, Peugeot, and Trek are visible on many of the bikes. Trek, which is based in the US, recently partnered with retailer Lidl, and the two companies own Lidl–Trek cycling team, which is currently competing in this year's Tour de France.
For the uninitiated, cycling may appear to be an individual sport, but that is incorrect. It is a team sport and involves a great deal of strategy. For instance, teams have domestique riders, whose job is not to win the race, but to protect their team leader from the wind and potholes in the road, and even perform defensive maneuvers on the course. Indeed, wind resistance can slow riders and force them to work that much harder. So, racing becomes a matter of physical endurance and physics.
The Lid–Trek team is competing with Trek's Emonda, Madone, and Speed Concept models. The Madone is Trek's fastest road race bike and was designed with the company's professional race team in mind.
According to Trek, the biggest change to the new Madone model is the new IsoFlow feature that identifies areas of drag. This was done using computational fluid dynamics (CFD).
The Madone was designed with Nvidia A100 Tensor Core GPUs, which were used to run high-fidelity CFD simulations within Siemens' Simcenter Star-CCM+. Using CFD, the company was able to significantly reduce the number of physical prototypes and physical testing needed. Trek was also able to test more complex variables in terms of air movement with CFD, cutting down on the amount of expensive wind tunnel testing that is required.
Not only must the bike be ultra-aerodynamic, but it must also be comfortable to ride (as each stage is many hours long) and easy to maneuver (around hairpin turns and amid a packed course with riders traveling an average of 24–25 mph within inches of one another). For this work, designers and engineers at Trek used Dell Precision workstations with Nvidia RTX A5500 GPUs as well as Dell Precision 7920s running dual RTX A6000 GPUs.
During the design phase, a range of software was used, including Adobe's Substance 3D, Maxon's Cinema 4D, KeyShot's software, and Dassault Systèmes' Solidworks. Using state-of-the-art technology, designers could iterate much faster and in near real time. They could also output high-end renderings for advertising, marketing, and other purposes.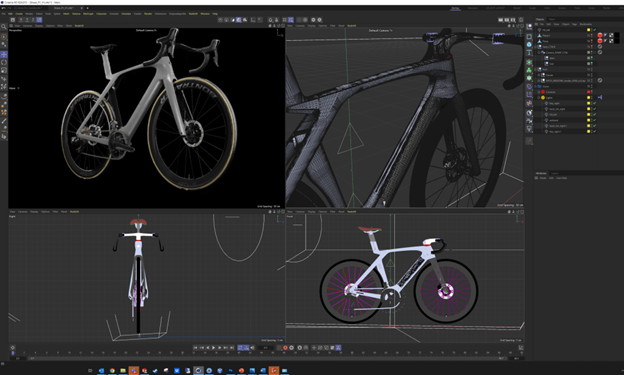 Of course, not every cyclist competes in the Tour de France, but that doesn't mean they are not particular about the design and performance of their bike, whether it is used for competition or pleasure. And while the professional racing team is benefitting from the redesign work, all riders are able to benefit from the aerodynamic gains achieved during the process.
According to Trek, the new Madone SLR and its aero handlebar position could help a rider switching from the previous Madone to increase their speed by another 0.43 mph. And during the length of the Tour de France, that can add up to a yellow jersey and a possible first-place win.
Information about the use of CFD and the CAD market in general can be found in JPR's CAD market report.