Jon Peddie Research reports that the growth of the global PC-based graphics processor unit (GPU) market was overstated due to the inclusion of Intel's GPU-compute AIBs known as Ponte Vecchio that were shipped to the Argonne National Laboratory Aurora supercomputer.
The PC GPU market reached 63.7 million units in Q4'22, and PC CPU shipments decreased by -35% year over year. Overall, GPUs will have a compound annual growth rate of 0.19% during 2022–2026 and reach an installed base of 3,011 million units at the end of the forecast period. Over the next five years, the penetration of discrete GPUs (dGPUs) in PCs will grow to reach a level of 31%.
Year to year, total GPU shipments, which include all platforms and all types of GPUs, decreased by -38%, desktop graphics decreased by -25%, and notebooks decreased by -44%—the largest decrease since its peak in 2011. AMD's overall market share percentage from last quarter increased 0.4%, Intel's market share decreased by -1.2%, and Nvidia's market share increased 0.79%, as indicated in the following chart.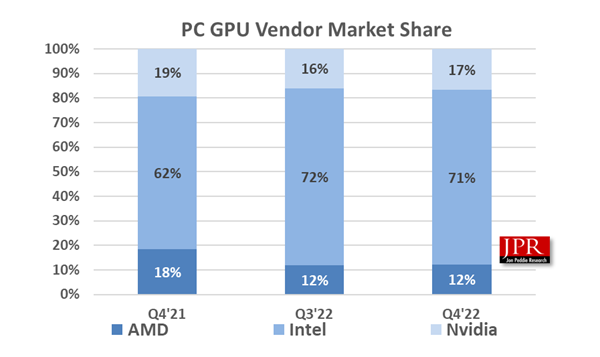 Overall, GPU unit shipments decreased by -15.9% from last quarter. AMD's shipments decreased by -12.7%, Intel's shipments decreased by -17.3%, and Nvidia's shipments decreased by -11.7%.
The inclusion of the Intel supercomputer GPUs distorted the market share numbers and the corrected version is:
Jon Peddie, president of JPR, noted, "This quarter's total graphics processor shipments (integrated/embedded and discrete) decreased an astounding -15.4% from the previous quarter, contributing to a decline in the historical 10-year average rate of 6.8%. A total of 63.7 million units were shipped in the quarter, which was a decrease of -38.9 million units from the same quarter a year ago, indicating the GPU market is negative on a year-to-year basis.
"The sky may be dark right now, but I promise you, it is not failing (except in Northern California, where the rain still hasn't let up, which means we're going to have the most beautiful spring)," Peddie said.
JPR also publishes a series of reports on the graphics add-in board market and PC gaming hardware market, which covers the total market, including systems and accessories, and looks at 31 countries.
Pricing and availability
JPR's Market Watch is available now, a single issue sells for $3,000. This report includes an Excel workbook with the data used to create the charts, the charts themselves, and supplemental information. The annual subscription price for JPR's Market Watch is $6,000 and includes four quarterly issues. Full subscribers to JPR services receive TechWatch (the company's exclusive access to daily news).
Click here to view the executive summary, table of contents, and more about this significant report or to download it now. For more information, call (415) 435-9368 or visit the Jon Peddie Research website at www.jonpeddie.com.
Contact Robert Dow at JPR ([email protected]) for a free sample of TechWatch.
About Jon Peddie Research
Jon Peddie Research has been active in the graphics and multimedia fields for more than 30 years. JPR is a technically oriented multimedia and graphics research and consulting firm. Based in Tiburon, California, JPR provides consulting, research, and other specialized services to technology companies in various fields, including graphics development, multimedia for professional applications and consumer electronics, high-end computing, and Internet-access product development. JPR's Market Watch is a quarterly report focused on PC graphics controllers' market activity for notebook and desktop computing.

Company Contact:
Jon Peddie, Jon Peddie Research
(415) 435-9368
[email protected]
Robert Dow, Jon Peddie Research
(415) 435-9368
[email protected]
Media Contact
Carol Warren, Antarra
(714) 890-4500
[email protected]