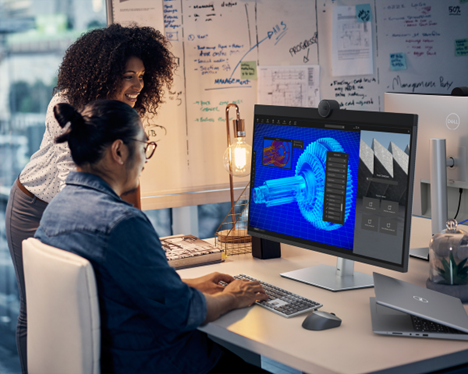 Dell has developed a 32-inch IPS monitor with a resolution of 6K, offering 21.23MP and a built-in autofocus 4K HDR 8MP camera for realistic imaging. The monitor features a VESA-certified 10-bit HDR 600 nit screen with a high contrast ratio of 2000:1. It provides ample connectivity options, including HDMI, mini-DP, USB-C, and Thunderbolt ports, along with an RJ45 port. The monitor supports split-screen or picture-in-picture mode, and it includes touch sensors for muting the microphone and disabling the camera. The adjustable stand allows for tilting, twisting, and rotating the screen, providing flexibility for different viewing preferences.
I went from 53MP to 65.47MP and no smoke came out of my computer.
Yes, I am a pixel pig, and that's been well-established. My rationalization is the more you can see, the more you can do, and I want to do more.
Back in 2021 when I added a 39-inch 5K display to my array of monitors and hit the unbelievable (for the time) 53MP display, I thought I was hot feces. And those 53MP served me well in productivity and bragging rights. And then Dell made the mistake of letting me know they might, just maybe, be working on something still bigger. My imagination ran wild because within my three-monitor array is a 32-inch 8K Dell monitor. Slowly but surely I teased it out of them that a 6K was in the works. Not only would the new 32-inch IPS monitor deliver 21.23MP, but it would also have a built-in 4K HDR webcam with 8MP, all of which makes you look real, blemishes and all.
The true, VESA-certified 10-bit HDR 600 nit screen is crazy bright, and the (honest) 2000:1 contrast ratio is obvious as soon as you power it up. If you run Windows and apps in Dark Mode, the real IPS Black panel won't make things gray, they will be cold as Night Black. The screen is so bright, I had to turn it down. But if you were in an office with big overhead lights or windows with the sun pouring in, you won't have to squint at the screen.
The monitor has plenty of holes in it, which makes a functional hub. It has an HDMI port, which freaked me out at first because my system only has DisplayPorts, but with a little examination, I found a MiniDP and I had an adaptor cable.

There are three USB-C port plus a Thunderbolt port (up to 140W) and even an RJ45, but I'm not sure of the reason, maybe for the camera.
The monitor can be driven by two sources for split screen or PIP.
And, there are two 14W speakers as well as an echo-cancelling mic, making this monitor the ultimate Zoomer. There are touch sensors for muting the mic and disabling the camera. The speakers sound amazing, I was stunned when they first came on and had to turn down the volume from my normal setting.
There's a neat little slot at the base of the stand for routing wires, which I appreciated.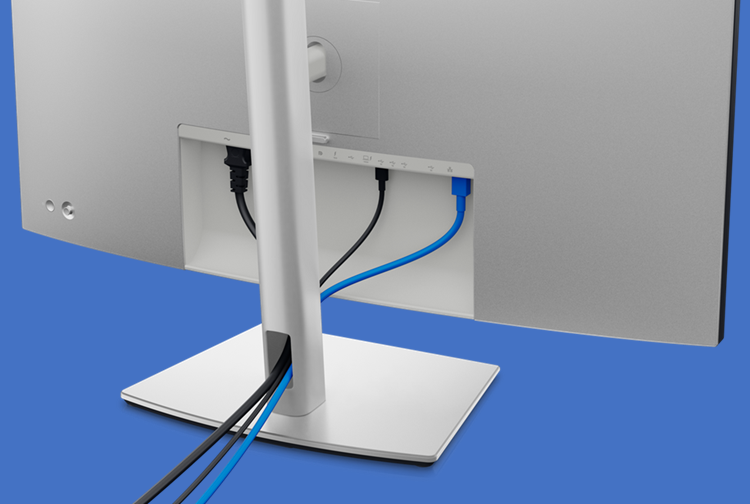 It's flexible. A user can tilt it up 21 degrees or down 5 degrees, twist it left and right 30 degrees, and rotate it from landscape to portrait.
The only odd thing about the monitor is that it doesn't have the Dell name at the bottom as all my other Dell monitors do. The UltraSharp 32 6K monitor (U3224KB) sells for $3,199.99 and is available now.
This is how the 6K looks next to its elder siblings. It may not show too well in the photo, but you can see, actually, you can feel—not joking— the difference in the blacks.