Apple suffers a very minor dip in sales due to economic headwinds. International sales and services were the strongest areas, iPad and Mac the weakest.
Apple announced its calendar-year Q1 (Apple fiscal-year Q2) earnings on Thursday, May 4, 2023, with revenue coming in at $94.8 billion, better than the $92.6 billion expected. Net income was $24.1 billion, or earnings per share of $1.52, a 3.3% drop over the same quarter last year but much better than the expected EPS of $1.43.
It was a typical sequential Q1 drop from the fourth quarter, but it still beat analysts' expectations on better-than-expected iPhone sales and strength in the services business, though Mac and iPad sales fell short.
"We are pleased to report an all-time record in Services and a March quarter record for iPhone, despite the challenging macroeconomic environment, and to have our installed base of active devices reach an all-time high," Tim Cook, Apple's CEO, said in a statement. "We continue to invest for the long term and lead with our values, including making major progress toward building carbon-neutral products and supply chains by 2030."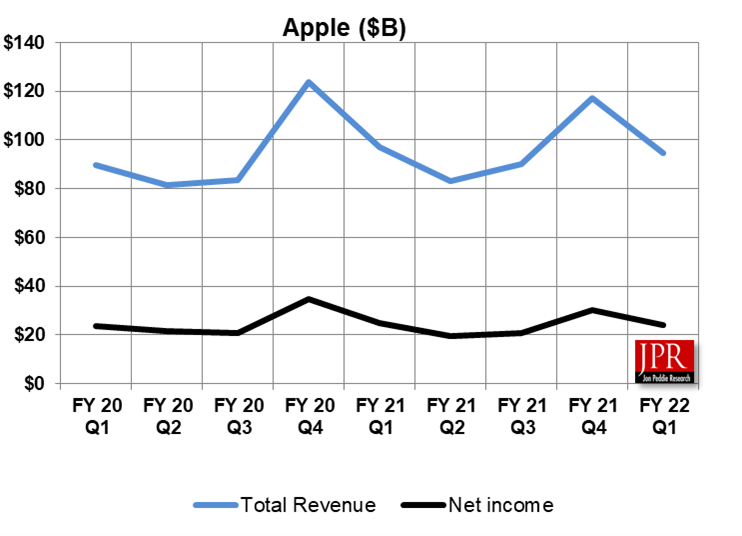 iPhone expands into new markets
iPhone revenue was $51.3 billion, a 22% drop from the previous quarter but a 1.5% bump over the same quarter last year. On a conference call with Wall Street analysts, Cook attributed that performance to record sales overseas, particularly in Mexico, Indonesia, the Philippines, Saudi Arabia, Turkey, and the UAE.
Services were also a bright spot
Apple's services business—which includes Apple Music and Apple TV+, iCloud, and AppleCare—was $20.9 billion, up 5.4% year over year and 0.6% from the prior quarter. Cook said this was achieved by record revenue across App Store, Apple Music, iCloud, and payment services, with more than 975 million paid subscriptions. He noted the highly acclaimed movies and TV series on Apple TV+, as well as the launch of a 10-year agreement with Major League Soccer, the return of Friday Night Baseball, and the launch of Apple Music Classical, a stand-alone app specifically for classical music lovers.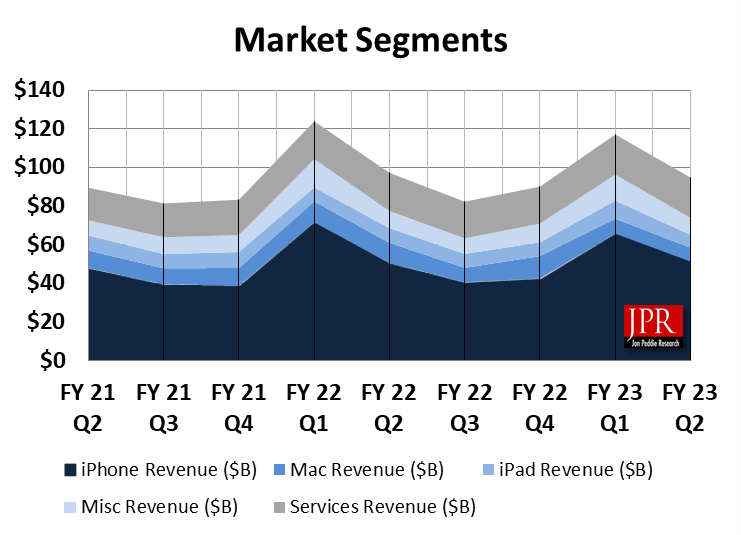 iPad down compared to prior year
The iPad didn't fare as well in this quarter compared to this quarter last year. Revenue was down 13% year over year to $6.7 billion, which was in line with Apple's expectations. This performance was due to two key factors: the successful launch of the iPad Air powered by M1 in the same quarter last year and headwinds from the macroeconomic environment, according to Apple's CFO Luca Maestri.
Mac sales took the hardest hit
Mac revenue was $7.2 billion, down 31% year over year and in line with Apple's expectations. Like the iPad, these results were driven by the challenging macroeconomic environment and the difficult comparison against last year's successful launch of the completely reimagined M1 MacBook Pros. Despite this, Maestri said the base of active Macs reach an all-time high across all geographic segments, and the company continues to see strong upgraded activity to Apple silicon.
Wearables hold steady
Wearables, home, and accessories revenue was 8.8 billion, down 1% year over year, all of which was attributed to the macroeconomic environment. However, the company did set March quarter records in both the US and in Greater China, with the Apple Watch installed base reaching a new all-time record.
Outlook
Apple declined to give guidance on what it expects for the next quarter. It has not given any guidance since the pandemic began in 2020.