The architecture, engineering, construction, operation industry (AECO) has always been highly fragmented among large numbers of mostly independent vendors. A survey conducted by Tech-Clarity on behalf of Graphisoft provides powerful insights and highlights the biggest challenges facing companies in this segment today.
Tech-Clarity recently conducted an AECO survey, sponsored by Graphisoft, titled "The State of Collaborative Design in AEC." This survey of 393 industry participants from a variety of countries—North America (24%), Western Europe (21%), Central Europe (15%), Asia (10%), and others from Australia, Eastern Europe, Latin America, Middle East, and Africa—makes for fascinating reading for anyone interested in AECO. Unlike other sponsored surveys that are used to persuade potential buyers to purchase the sponsor's products, this one seems straightforward and factual. It lives up to Tech-Clarity's sterling reputation.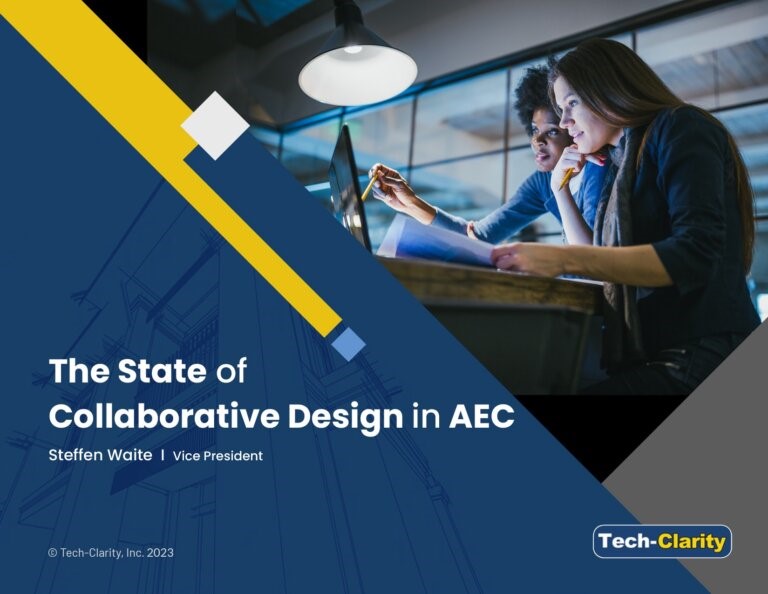 According to Tech-Clarity, the research focused on current approaches to collaboration, the readiness to adopt advanced design tools, and how these factors impact project success and profitability. The study focused primarily on the design and design coordination phase of the full built-project life cycle; it does not significantly include the experience of the construction community.
Tech-Clarity's Steffen Waite, who directed the study, remarked, "Poor communication and design complexity challenge collaborative design in AEC. So, what are companies doing to achieve success?" The survey report suggests possible answers.
First, here's a snapshot of the respondents. Nearly 400 people whose companies design, engineer, or construct the built environment to investigate the current state of collaboration and multidisciplinary design in the AEC community participated. Of those, approximately three-quarters (72%) of the respondents are architects, and the vast majority of respondents' companies offer architectural and/or engineering services.
"Architects must design concepts with strong aesthetics and build their company reputation, while also recognizing the need to meet practical project objectives like project cost and schedule. Unfortunately, poor communication and increased design complexity, which emerged as two of the most common challenges to meeting project objectives and outcomes, make this difficult," the survey's executive summary states. "Beyond this, almost two-thirds of survey respondents report that design complexity has increased over the last five years."
Designers acknowledge the positive impact that working collaboratively has across disciplines, especially as design complexity increases. However, the industry is using methods that are inefficient and error-prone, i.e., email, in-person meetings, PDFs, and hard-copy sheets the survey states. Similarly, the design integration approaches being used—collecting 2D or printed documents, for instance—fall short as well, despite recognition of the importance that design integration has on a project's success.
The survey report goes into some detail about how the specifics of the fragmented structure of AECO challenge efforts to use technology to close the gaps that exist. It also clarifies why some of those who resist the possibility of technological solutions do so.
The survey concludes that project complexity has increased over the last five years and will probably continue to do so. Meanwhile, collaboration has not kept up with industry needs. "Full multidisciplinary design adoption is still relatively low, but those adopting it are achieving significant benefits. The overall perception of multidisciplinary design and BIM is positive, yet it faces a number of challenges. Most companies are not willing to trade off significant design functionality for those benefits. We expect to see greater adoption of multidisciplinary design as systems mature, but also expect that companies must maintain an open approach to BIM tools to accommodate an environment consisting of multiple authoring tools," the summary states.
The full survey report is available for free from this link.
For a larger picture of the CAD industry, see JPR's CAD market report.