The staff from Jon Peddie Research hosted the annual JPR press luncheon at Siggraph 2023, which featured CG tech leaders at some of the industry's top facilities who discussed the evolution of the pixel as well as present-day and possible technology advances of tomorrow impacting the industry. The panelists comprised Paul Babb, CMO of Maxon; Steve May, CTO of Pixar; Francois Chardavoine, CTO of ILM and Lucasfilm; and Marc Petit, GM of Unreal Engine, Epic. Also at the event, Paul Debevec, CG researcher, was awarded the Jon Peddie Research Lifetime Achievement Award for his work impacting the industry. The event was sponsored by AMD, Dell, HP, Lenovo, and Nvidia, which also donated valuable raffle prizes.
What do we think? After a hiatus due to Covid, the Jon Peddie Research press luncheon returned during Siggraph 2023. As Siggraph celebrated its 50th anniversary, JPR celebrated the 20th anniversary of this lunch and learn event with an all-star panel that provided varying perspectives of tech impacting the CG industry. These four executives have spent years in the thick of things during periods of substantial change as a result of technical innovations. And today, their roles place them at the forefront of the industry and in a first-tier position to experience and affect change. We at JPR are grateful for their participation and for taking time from their busy schedules. We would also like to thank our sponsors for assisting us in what we believe is a valuable experience and an opportunity to hear from such an impressive group of thought leaders and leading-edge companies.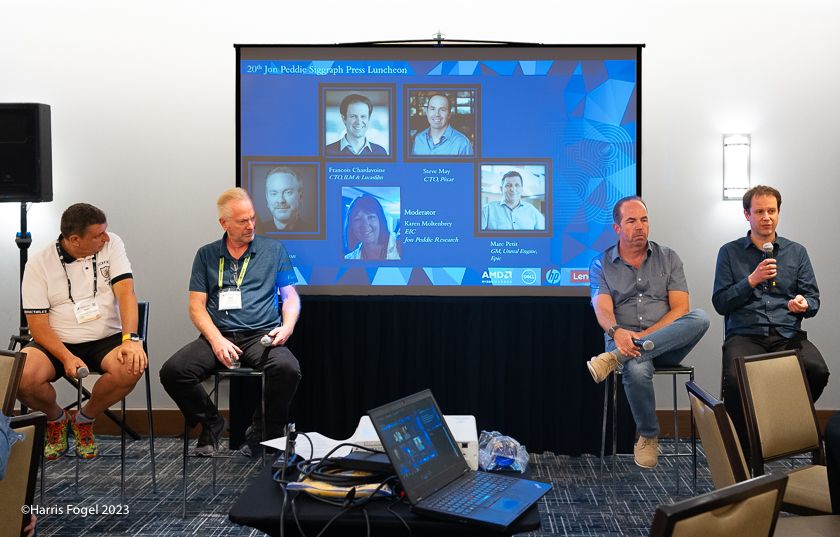 JPR provides a brief overview of the CG market; CG experts discuss tech impacting the industry
A lot has changed in the CG industry since the first Siggraph conference a half-century ago, but then again, evolution is what keeps the conference relevant, especially the ever-evolving advancements in technology. There is change, and then there's sea change. And the CG industry has been experiencing a sea change of late, prompted by technological innovations such as AI. Obviously, such transformative tech is not a first for pixel pushers who thrive on breaking new boundaries and working on the cutting edge.
Jon Peddie Research (JPR) has been writing about these accomplishments for the past 35 years. As the industry's top analyst, founder Jon Peddie has witnessed and opined on a wide range of tech—some impactful, some less so. Two decades ago, JPR began hosting its annual invitation-only press luncheon at Siggraph, an exclusive event where a select panel of industry luminaries offer insightful commentary and answer questions concerning a technology or trend garnering particular attention among CG practitioners at the time.
At the 2023 event, Omid Rahmat, JPR executive vice president, provided a brief overview of the DCC industry. He noted that the digital content creation universe continues to expand and shared some facts and figures from the JPR 2023 Digital Content Creation Market report that piqued interest from the audience. He said people may feel a little trepidation when it comes to AI, but as AI makes it easier for more people to create, more opportunities will result. So, the market will not shrink, it will expand, creating a growing customer base for DCC software, Rahmat added.
In celebration of Siggraph's 50th anniversary, the theme of the 2023 luncheon was "Looking Backward, Looking Forward." "It is always prudent to recognize our past achievements, which inform many of our present decisions and technology, as well as those of our future," said JPR's Editor in Chief Karen Moltenbrey, who served as "chief inquisitor" at the event. She posed various questions to the panel, prompting them to explore the evolution of the pixel and important changes, many occurring at light speed, taking place in the content creation and CG industries today.
The panelists for this year's event were: Paul Babb, CMO of Maxon; Steve May, CTO of Pixar; Francois Chardavoine, CTO of ILM and Lucasfilm; and Marc Petit, GM of Unreal Engine, Epic.
Back in the day…
As indicated above, we cannot have our present without our past. And the panelists were quick to point out some earlier industry milestones that helped shape and revolutionize our industry. Chardavoine started in the industry just as computer-generated and computer-assisted solutions were beginning to take hold. "Suddenly, instead of trying to figure out how to do one-offs in camera, you had the ability to combine a lot of solutions—from matte paintings to miniatures, the layering of multiple passes—and then keep building upon the shot until you got it right," he said.
Chardavoine also points to the advent of motion control as a big transitional moment, as well as the use of CG to achieve photorealism and as a storytelling device. He believes we are now in another phase, whereby creatives who are artists but not necessarily highly technical are able to interact more naturally, in real time, with tools like virtual production. They have the ability to engage in the same way that they used to—despite now leveraging highly technical solutions.
Back when May started at Pixar, almost everyone involved in creating computer animation was a programmer and had to write code in order to get their job done. For instance, if you wanted to assign a material to an object, you wrote some code to attach those material properties to a piece of geometry, he said. So, whereas most of the technical artists at Pixar back then were technical and programmers, today the opposite is true—most of the production artists are more artist-like. Looking ahead, May sees things like generative AI opening up creative opportunities for people who may not be considered artists in the traditional sense.
Babb recalls demoing products years ago to people who were predominantly programmers and technicians, and their surprised reaction when he showed what could be accomplished with just a click of a button or a drag and drop. Another big milestone in content creation and CG, he believes, was the Internet. "I was actually selling 3D when we didn't have the Internet," he said. "And to share knowledge tutorials and things like that, we would have to create interactive CDs that we sent out to the community." The Internet, he noted, really started the democratization of 3D—being able to share knowledge and teach people, and create communities. For Petit (formerly head of 3D products at Softimage), two past milestones come to mind. One is a 1997 release of Softimage on the PC, which he believes to have signaled the start of the commoditization of computer graphics, especially as the prices of software and equipment became more affordable. The other moment came in 2017 when Epic Games came to Siggraph for the first time and was showing real-time compositing and real-time rendering, and presented Meet Mike, an advanced real-time digital human application. "I think it was the start of something in the industry that hopefully is going to leave a mark," he said.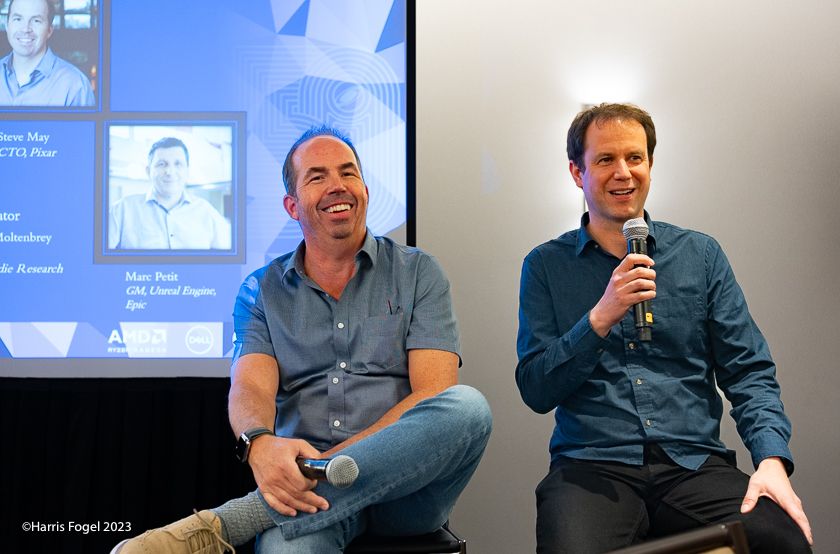 And now today…
Open source has become a big topic in the industry during the past several years, and it is showing no sign of slowing down. Back in the early days of the industry, very few companies had the ability to make really high-quality computer-generated animations and visual effects, May notes, and employed technologists and programmers to accomplish that. And everyone was very secretive about their work, and there was not a lot of information sharing. Everything was proprietary. "The community as a whole really came around to the idea that we're all trying to solve a lot of the same problems. As the technology matured, a lot of it became less precious, and so that opened up sharing. Now there's a different kind of vibe within the community that feels very healthy and collegial in some ways," he said.
Petit added that he believes that the Alliance for OpenUSD, announced just prior to Siggraph and for which May is chairing, is going to be remembered as a seminal moment for the next version of the Internet. Of course, that comes on the heels of other really important open-source projects that have paved the way for this to happen, including Alembic (exchange format) and OpenEXR (HDRI file format).
There is so much to be accomplished in our industry that one company can't do it all, Chardavoine said, and that leads everyone to think about what matters most. "If you want to keep pushing the leading edge, you can't just keep fixing the pipes under the hood," he explained. "[We need] that ability to say, 'We are all solving this, let's just have a solution we can all build upon and push the leading edge even more.'"
The panelists also discussed virtual production, which many people associate with LED volumes, although Chardavoine points out that it has been used for a long time, going back to A.I. Artificial Intelligence (2001) and other movies that used forms of virtual cameras and the ability to preview how the CG was going to meld with what is being shot on set. It marked the start of operating in the digital computer world as you would on the real set.
This brought up discussion about new technology and the right way, and wrong way, of using it. The purpose of using such technology is to improve the way things are done, and oftentimes users are very quick to try new tech but are not familiar enough with it to use it in the right way and, in turn, become disappointed with the results. Education is key, the panelists agreed.
The driving forces today
Change comes from multiple points across the industry—hardware and software vendors, as well as users and creatives. May believes there is a constant zigzagging in this regard. The improvement and scale of what can be achieved through compute, for instance, illustrates how evolution can occur. The CPU initially allowed for computer graphics, while GPUs facilitated interactive previews, and then, suddenly, people realized that the way GPUs are architected is really good for massive parallelization. But, they're also good for AI and machine learning, he said. And that enabled the additional leap in innovation. "Along the way, it became the people leveraging new abilities and then pushing the tech even further, motivated by even more compute," he explained.
Petit, on the other hand, sees consumers giving a big boost to technology through commoditizing graphics, and companies can benefit from the economic momentum that results. Babb believes the driving force for change comes from a combination of hardware and software—there were times when software exceeded what the hardware could support, and vice versa. The two go hand in hand, he said.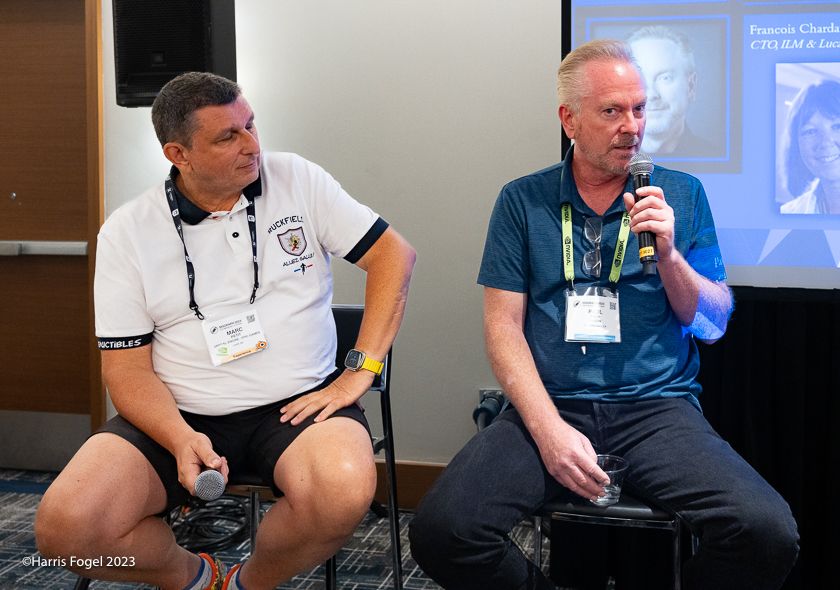 The panelists were also prompted about how the role of content creator has changed. There has been no big change at Lucasfilm and ILM. Conversely, gamers are now able to create their own games and content, becoming creators themselves. The panelists note that it all depends on scale. However, all creators are able to benefit from tools like machine learning and generative AI, they said, to better convey their vision for a project and what they would like to accomplish. And as a result, such technology aids in streamlining the communication process. Whereas previously an artist might have used a collection of Google searches to illustrate their vision, now they can do that using generative AI.
Chardavoine believes where machine learning and generative AI make the most difference is in commoditization, the ability for anyone to be able to tell a story end to end—although not everyone will do so on the same level as a large feature film. "For films like ours, probably what we expect out of the chief creatives behind a project hasn't changed. It is just more enabled," he said.
May agreed, adding that as content creators are provided with better tools over time, it opens up new opportunities to do things differently. What generative AI and AI, in general, will likely do is open up the potential for those who weren't traditionally in a creative role to have creative contributions. He also sees the possibility of the new tech leading to smaller teams. Babb concurs, seeing these new technologies like AI and ML as opening the door to some who may have been uncomfortable before with DCC tools. It gives them, and more seasoned artists, a starting point, sparking creativity.
In terms of looking at the future, Babb expects to see AR and MR grow exponentially over the next few years.
There were so many more interesting insights and comments from the panelists pertaining to the CG industry and related technologies, with the audience clearly interested in generative AI, pressing the panelists on their thoughts and experience with this burgeoning technology.
Award and prizes
During the past few years, JPR began the tradition of awarding a Jon Peddie Research Lifetime Achievement Award to a person who has greatly impacted the CG industry. This year, the award was presented to Paul Debevec—chief research officer, Eyeline Studios; Governor, Visual Effects, Academy of Motion Pictures; and adjunct research professor, USC CS—for his work in developing real-world lighting systems for VFX. Past recipients include Jeff Clarke (Dell), Jensen Huang (Nvidia), Tim Sweeney (Epic), and Ton Roosendaal (Blender).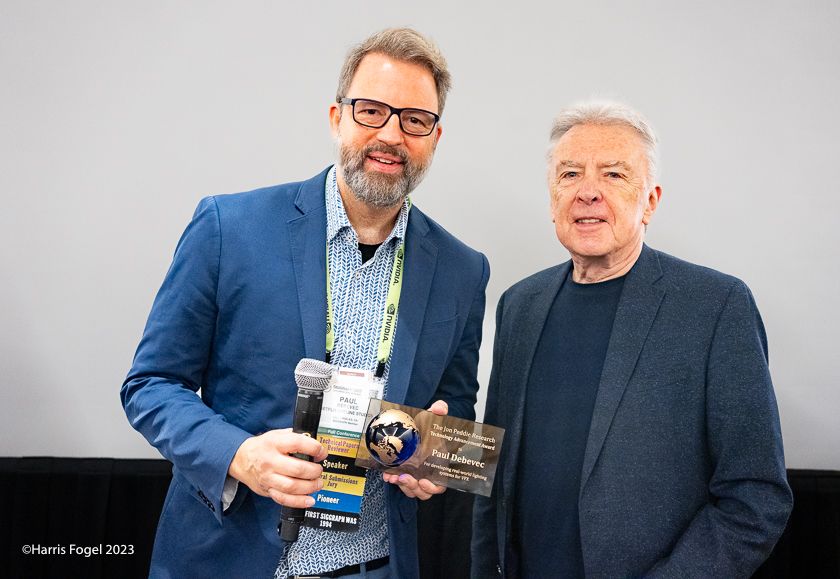 And, in usual fashion, the event culminated with prize giveaways from the five corporate sponsors of the luncheon: AMD, which donated a Radeon Pro W7500; Dell, which donated a Premier Collaboration Keyboard and Mouse KM900; HP, which donated a ZBook Firefly G9 Mobile Workstation; Lenovo, which donated a ThinkPad P1 Hero; and Nvidia, which donated a potpourri of tech gifts.